A tender crumb flavored with fresh orange zest, studded with tart cranberries and topped with an orange glaze!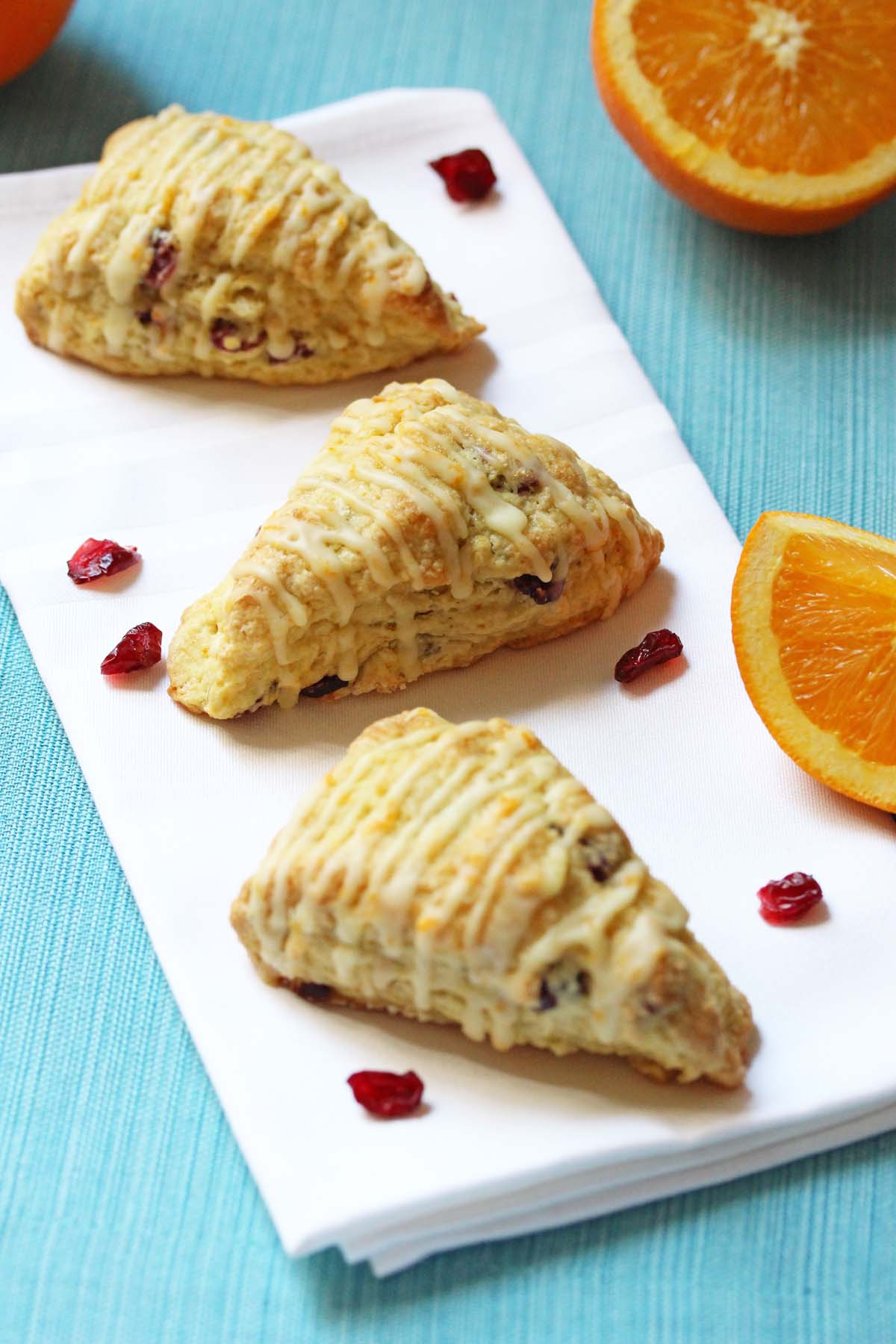 I hope you like scones – because I have yet another scone recipe for you! A portable, dunkable and delicious scone with a glaze. The perfect accompaniment for your next cup of coffee or tea. I know you may be thinking "is she obsessed with scones or something " and the answer is yes!
It all began with a bunch of fresh blueberries and a few adjustments to a family scone recipe that resulted in a batch of these. Ever since than (as in a few months ago) I have been hooked. Baking up batch after batch of scones in various flavor combinations like today's cranberry orange scones.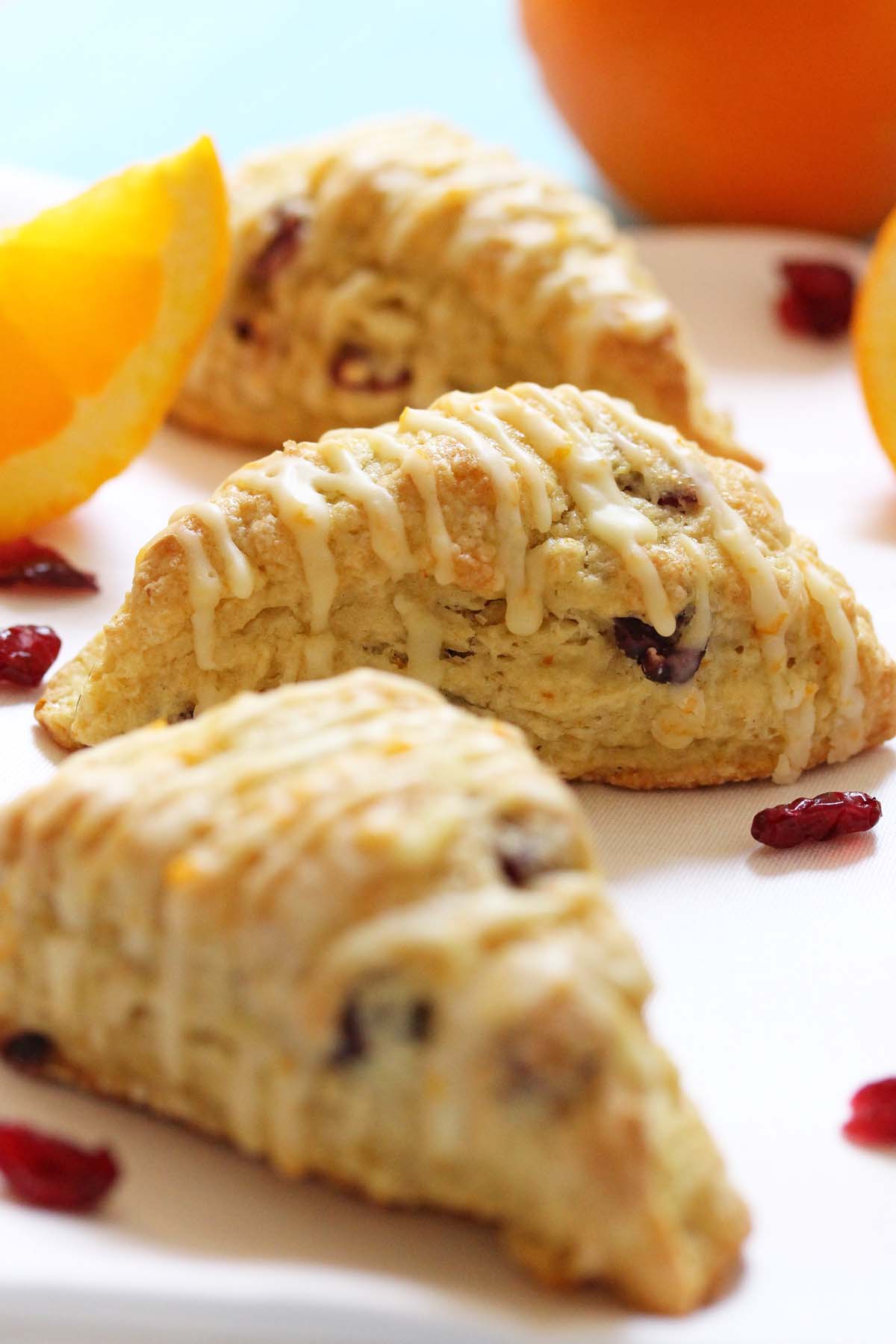 A tender crumb flavored with a hint of fresh orange zest and studded with tart dried cranberries. Topped with a sweet orange glaze flavored with some freshly squeezed orange juice and a hint of orange zest. Making for the perfect sweet meets citrus combination. I think these would also be delicious with a few white chocolate chips added in with the cranberries.
Cranberry Orange Scones
Source: Ashley Marie's Kitchen
Yield: 8 scones
Scones
2 and 1/2 tablespoons of granulated sugar
zest of one orange, about 1 teaspoon
2 cups of all -purpose flour, plus more for dusting
1/2 a teaspoon of salt
1 teaspoon of baking soda
1 teaspoon of cream of tartar
4 tablespoons of cold unsalted butter, cubed
1/2 cup of dried cranberries
1/2 cup plus 2 tablespoons of buttermilk, shaken
1 large egg
3 tablespoons of heavy cream
coarse sugar for sprinkling
Orange Glaze
1/2 cup of confectioners sugar
2 tablespoon of fresh orange juice
1/4 teaspoon of orange zest
Directions
In a large bowl add the sugar and orange zest. Using your fingertips rub together the sugar and orange zest until fragrant and slightly damp. To the sugar mixture sift in the flour, salt, baking soda and cream of tartar. Add the butter and cut it into the flour mixture until crumbly and some pea sized pieces remain. Toss in the cranberries and stir to combine. Make a well in the center of the flour mixture.
In a small bowl whisk together the buttermilk and egg. Add the buttermilk mixture to the flour mixture and stir until the dough just comes together. Do not over mix.
With floured hands, transfer the dough to a lightly floured work surface. Pat the dough into a round with a 1-inch thickness. If the dough is a bit shaggy you can knead it 3-4 times to further incorporate the ingredients. Cut the dough into 8 triangles and space the triangles out onto a parchment lined baking sheet. Refrigerate the scones for 30 minutes.
Preheat the oven to 375 degrees.
Once the scones have finished chilling brush the top of each scone with some heavy cream and sprinkle with some coarse sugar. Bake for 15 -20 minutes until firm to the touch and cooked through. Allow to completely cool.
While the scones cool you can prepare the glaze.
Orange glaze
In a small bowl whisk together the confectioners sugar, orange juice and orange zest. Drizzle the glaze over cooled scones. Allow the glaze to set and enjoy!