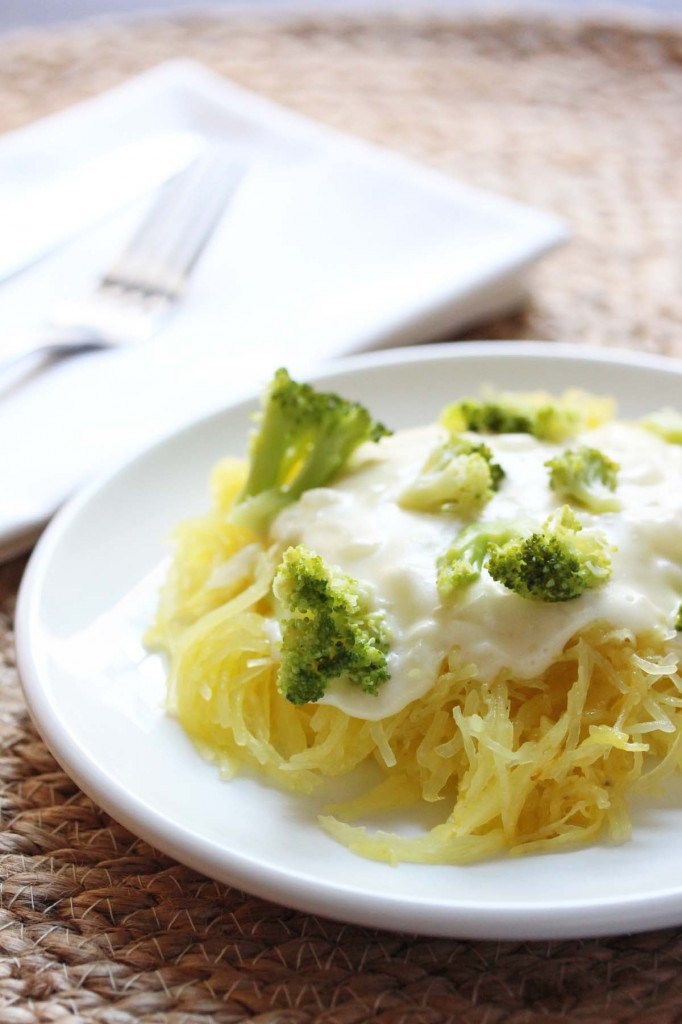 Pasta is by far one of my favorite foods – especially when it's coated in a rich and creamy sauce, however, since my waist line doesn't allow for pasta to be on the menu every night I wanted to explore some alternatives.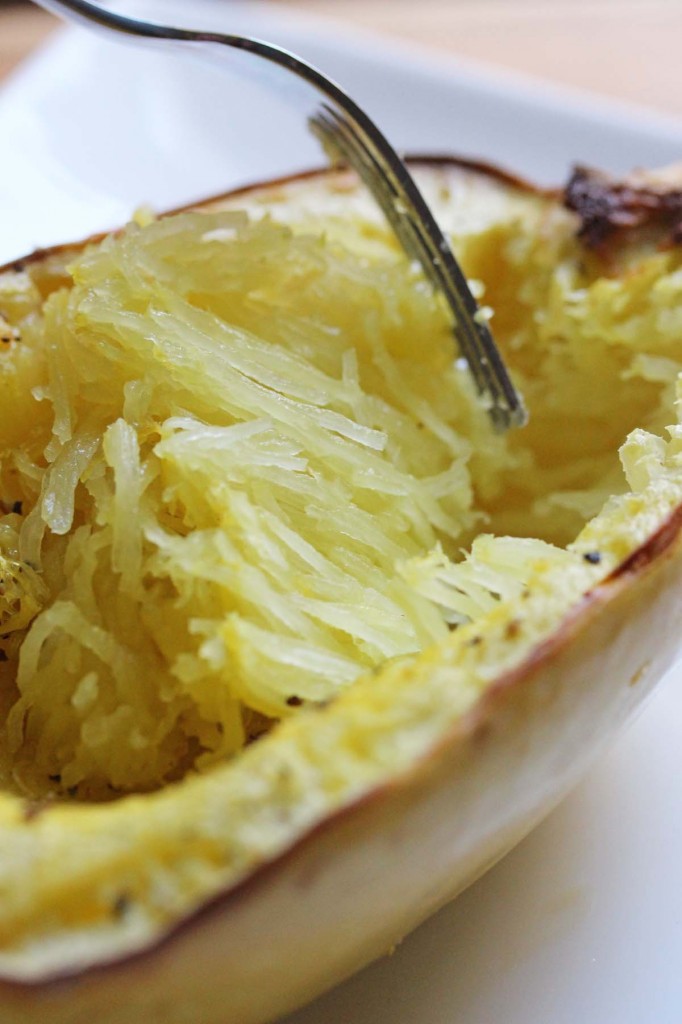 Helloooo spaghetti squash… I first fell in love with this oblong, pale yellow squash last year and have been hooked ever since. A slightly crisp interior that magically forms spaghetti like strands once cooked lends itself perfectly to being paired with all of your pasta favorites.
Texture is one of the critical factors in cooking, and this squash comes amazingly close to that pasta feel (it even has that twirly fork ability!) Now, it's not a perfect replica, but certainly brings its own deliciousness to the table.
So, for tonight's dinner I made a lightened up Alfredo sauce and served it over spaghetti squash topped with some broccoli. The whole plate clocks in at around 280 calories and 15 grams of fat per serving.
Spaghetti Squash Alfredo
Source: Ashley Marie's Kitchen
Yield: 4 servings
Spaghetti Squash
1 spaghetti squash ( about 3 pounds) halved lengthwise and seeded
1 tablespoon of olive oil, divided
salt and pepper to taste
Alfredo Sauce
1 tablespoon of unsalted butter
1 small onion
1 pinch of red pepper flakes
1 large clove of garlic, minced
1 tablespoon of all -purpose flour
1 cup of whole milk
1 cup of grated Parmesan cheese
2 cups of cooked broccoli
black pepper to taste
Directions:
Preheat the oven to 400 degrees and line a large rimmed baking sheet with foil.
Carefully cut the squash in half lengthwise with a sharp chef's knife. Scrape out the seeds using a spoon and discard.
Place the squash cut side up onto the prepared baking sheet and brush each half with 1/2 a tablespoon of olive oil each and season with salt and pepper. Bake for 45 minutes or until tender when pierced with a knife. Allow the squash to cool slightly.
Once the squash is cool enough to handle, carefully scrape the the inside of the squash with a fork into spaghetti like strands.
While the squash cools slightly you can prepare the sauce.
Alfredo Sauce
In a medium sauce pan, melt the butter over medium low heat. Add the onion and red pepper flakes cooking until the onion is tender. About 4 minutes. Add the garlic and cook for 1 minute.
Slowly whisk in the flour to the butter and onion mixture to form a paste. Cook the flour mixture stirring constantly. About 4-5 minutes.
Slowly add the milk and stir constantly until thickened and incorporated into the sauce. Gradually add the Parmesan cheese and black pepper until melted and smooth. Pour the sauce over the spaghetti squash and top with the cooked broccoli. Serve immediatly and enjoy!