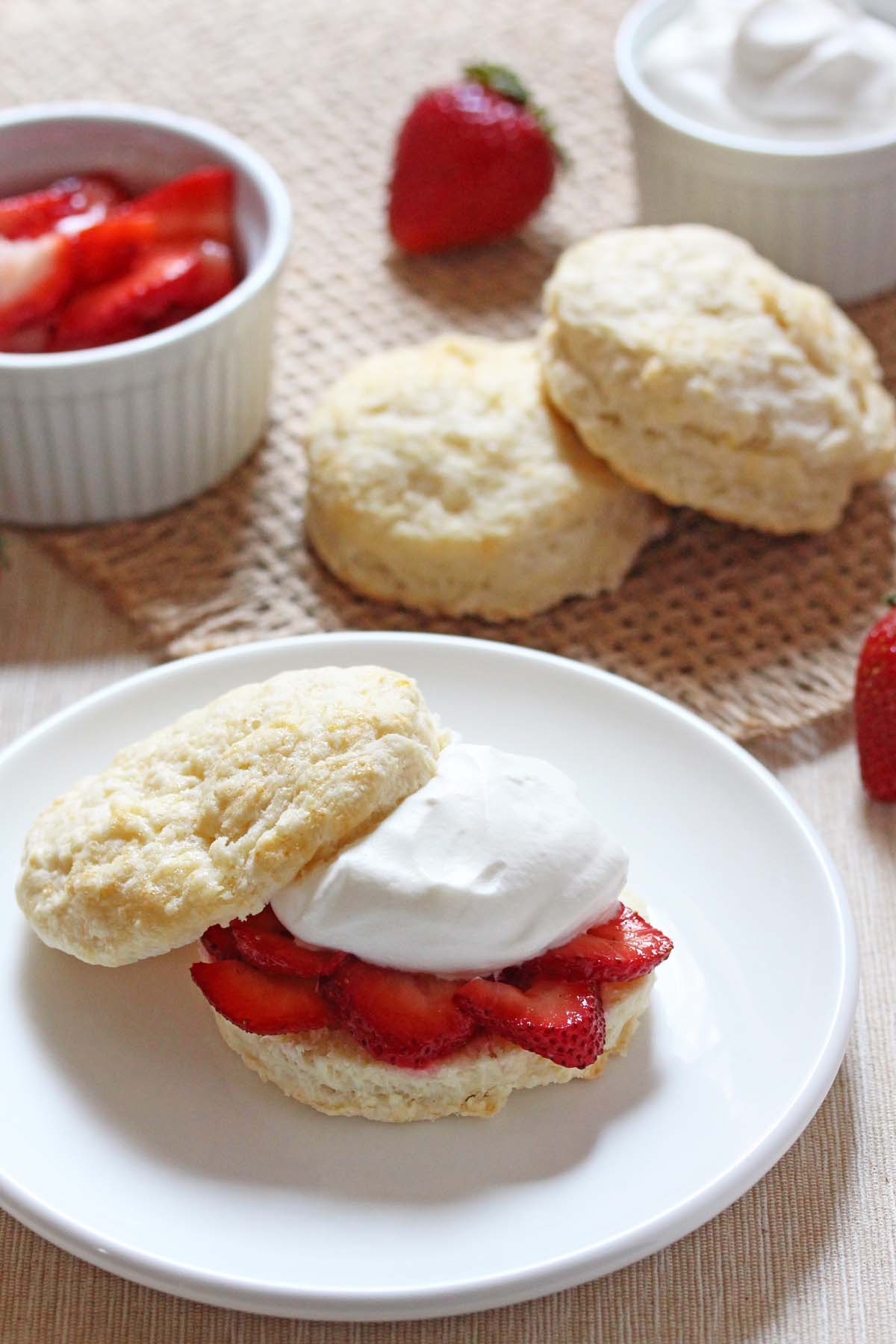 As a tribute to my all time favorite summer dessert I baked up a batch of strawberry shortcakes! I also made sure to snag one for brunch, you know so I could have the strength to take some pictures. There are strawberries involved so I think I am good.
A tender and slightly sweet base flecked with lemon zest. Topped with fresh strawberries in a sweet syrup and served with a good sized dollop of whipped cream to finish it off. This is one of the best ways to savor summer.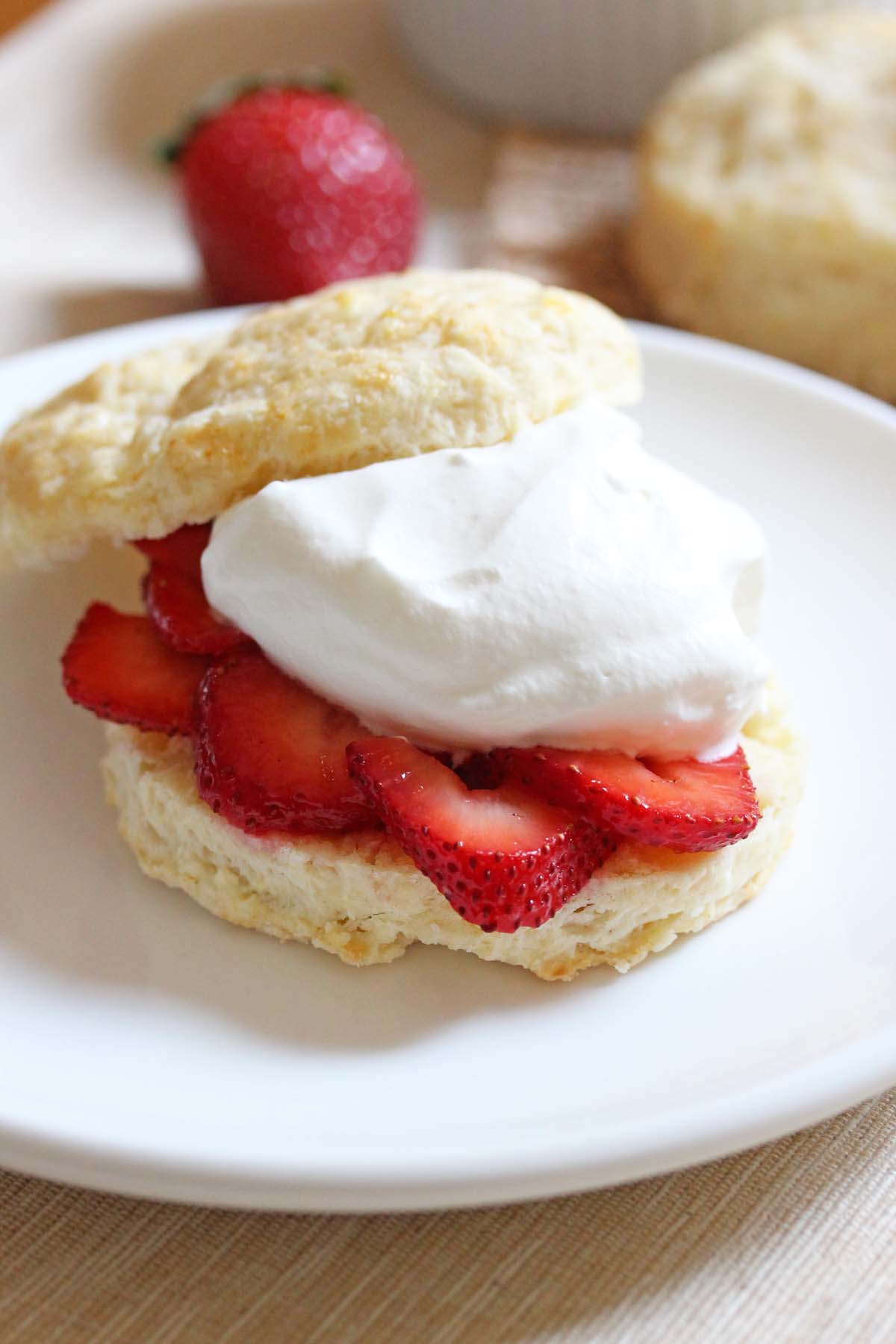 Strawberry Shortcakes
Source: Ashley Marie's Kitchen
Yields: 6 
Biscuits
1/4 cup of granulated sugar
1 teaspoon of fresh lemon zest
2 cups of all -purpose flour
1/2 teaspoon of salt
1 and 1/2 teaspoons of baking powder
1 pinch of nutmeg
6 tablespoons of cold unsalted butter, cubed
1/2 cup plus 2 tablespoons of buttermilk, shaken
1 large egg
3 tablespoons of heavy cream
coarse sugar
Strawberries
1 pound of ripe strawberries, hulled and sliced
1-2 tablespoons of granulated sugar
Cream
1 cup of heavy cream
2 tablespoons of granulated sugar
1/4 teaspoon of pure vanilla extract
Directions
In a large bowl add the sugar and the lemon zest. Using your fingertips rub together the sugar and lemon zest until fragrant and slightly damp. To the sugar mixture sift in the flour, salt, baking powder and nutmeg. Add the cubed butter and cut it into the flour mixture until crumbly and some pea sized pieces of butter remain. Make a well in the center of the flour and butter mixture.
In a small bowl whisk together the buttermilk and the egg. Add the buttermilk mixture to the flour mixture and stir until the dough just comes together.
With floured hands, transfer the dough to a lightly floured work surface. The dough will be quite shaggy. Knead the dough a couple of times until the dough holds together more. Make sure not to over work the dough.
Gently pat the dough into a rough disc, about 1- inch thick. Use a biscuit cutter to cut the dough into rounds. I did not have a biscuit cutter so I used a drinking glass. Space out the dough rounds onto a parchment lined baking sheet and refrigerate for about 20 minutes.
Preheat the oven to 375 degrees.
Once the dough has finished chilling brush the top of each shortcake with some heavy cream and sprinkle with some coarse sugar. Bake for 15 -20 minutes until risen and cooked through. Allow to completely cool.
While the shortcakes cool you can prepare the strawberries and whipped cream.
Strawberries
In a medium bowl toss the strawberries with the sugar and let sit for about 20 minutes.
Whipped Cream
Using a hand mixer beat the heavy cream, sugar and vanilla until soft peaks form.
Assembly
Slice a shortcake in half. Place the bottom half of the shortcake cut side up onto a plate. Spoon on the strawberries and top with a good dollop of whipped cream. Replace the top and enjoy!