Baked Apple Cider Doughnuts
It's no secret that fall is my fav-o-rite season! The cool crisp weather, vibrant colors of the changing leaves and of course the great selection of fruit and vegetables.
On my latest trip to the grocery store I couldn't help but notice the beautiful bounty of vibrantly colored apples filling the produce section. Perusing the different varieties of apples I began thinking about some of my favorite apple-y things, like a cake or fresh apple cider or you know combining the two to make a batch of these baked apple cider doughnuts.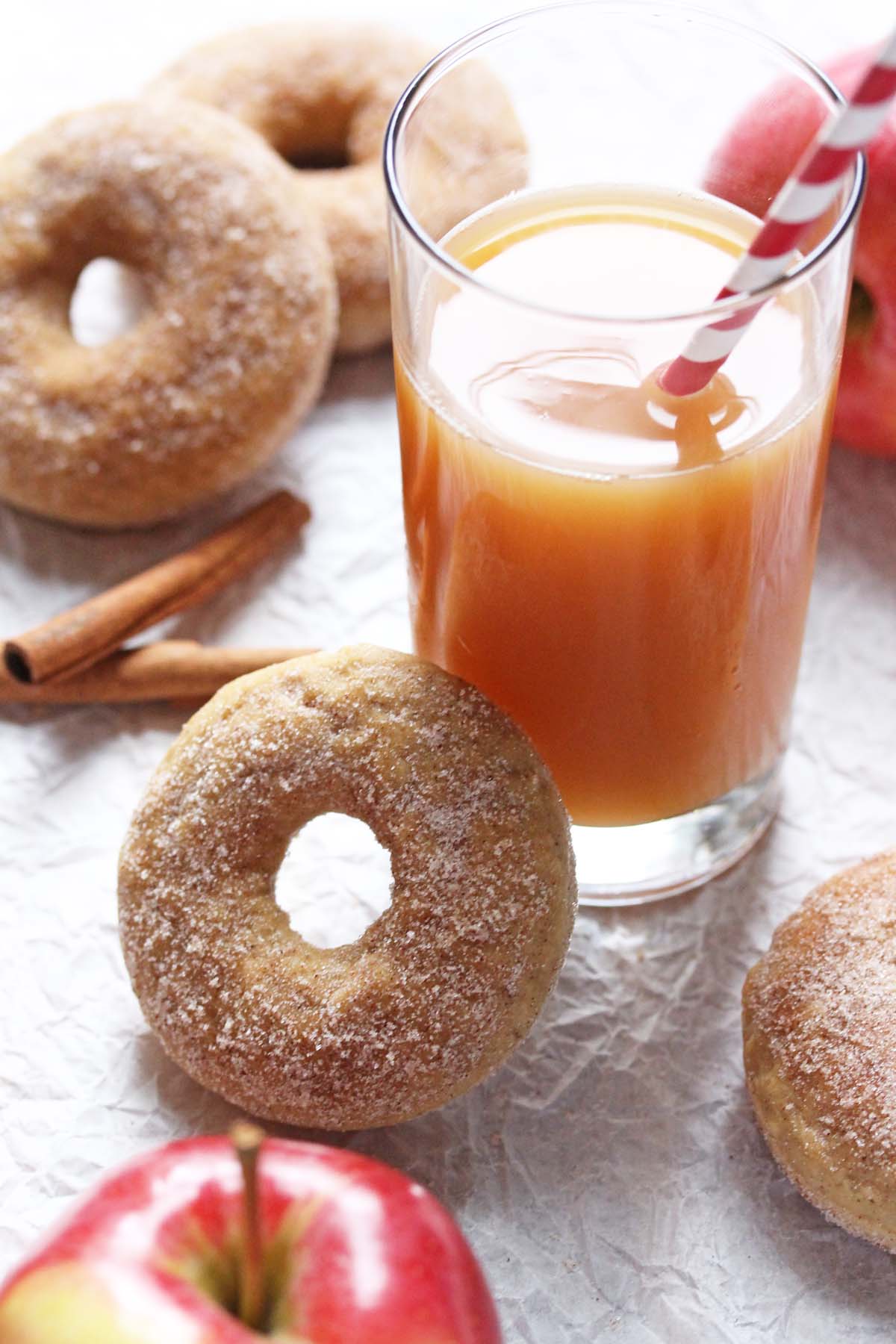 The results were all kinds of amazing! A tender, fluffy doughnut with hints of cider, brown sugar, and warm spices throughout. Topped with a mixture of cinnamon and sugar for an added touch of sweetness. These doughnuts go perfect with that morning cup of coffee or if your like me you'll wash them down with a bit of cider. Yay for fall!
Baked Apple Cider Doughnuts
Yield: 6 doughnuts
Doughnuts
1 cup plus 2 tablespoons of all-purpose flour
1 teaspoon of baking powder
1/4 teaspoon of baking soda
1/4 teaspoon of ground cinnamon
1/8 teaspoon of ground cloves
1/8 teaspoon of ground nutmeg
1/4 teaspoon of salt
2 tablespoons of unsalted butter, melted and slightly cooled
1/4 cup of light brown sugar, lightly packed
1/2 cup of apple cider
1/4 cup of buttermilk, shaken
1 large egg, room temperature
1/2 teaspoon of pure vanilla extract
Topping
2 tablespoons of unsalted butter, melted
1 teaspoon of ground cinnamon
1/3 cup of granulated sugar
Directions
Preheat the oven to 325 degrees and grease a doughnut pan
In a medium bowl sift together the flour, baking powder, baking soda, cinnamon, clove, nutmeg and salt.
In a separate bowl mix together the melted butter and sugar until combined. Add the apple cider, buttermilk, egg and vanilla and mix until incorporated.
Gradually add the flour mixture to the cider mixture and mix until just combined. Make sure not to over mix.
Spoon or pipe the batter into each section of the doughnut pan filling it about 3/4 of the way full. Bake for 13 minutes or until the doughnuts are fully cooked through and spring back when lightly touched. Allow the doughnuts to cool. About 5 minutes.
Gently turn out the doughnuts from the doughnut pan onto a wire cooling rack.
While the doughnuts are cooling you can prepare the topping.
In a medium bowl whisk together the cinnamon and sugar.
Brush the tops of the warm doughnuts with some melted butter. Then gently dip one or both sides into the cinnamon and sugar mixture. Enjoy!