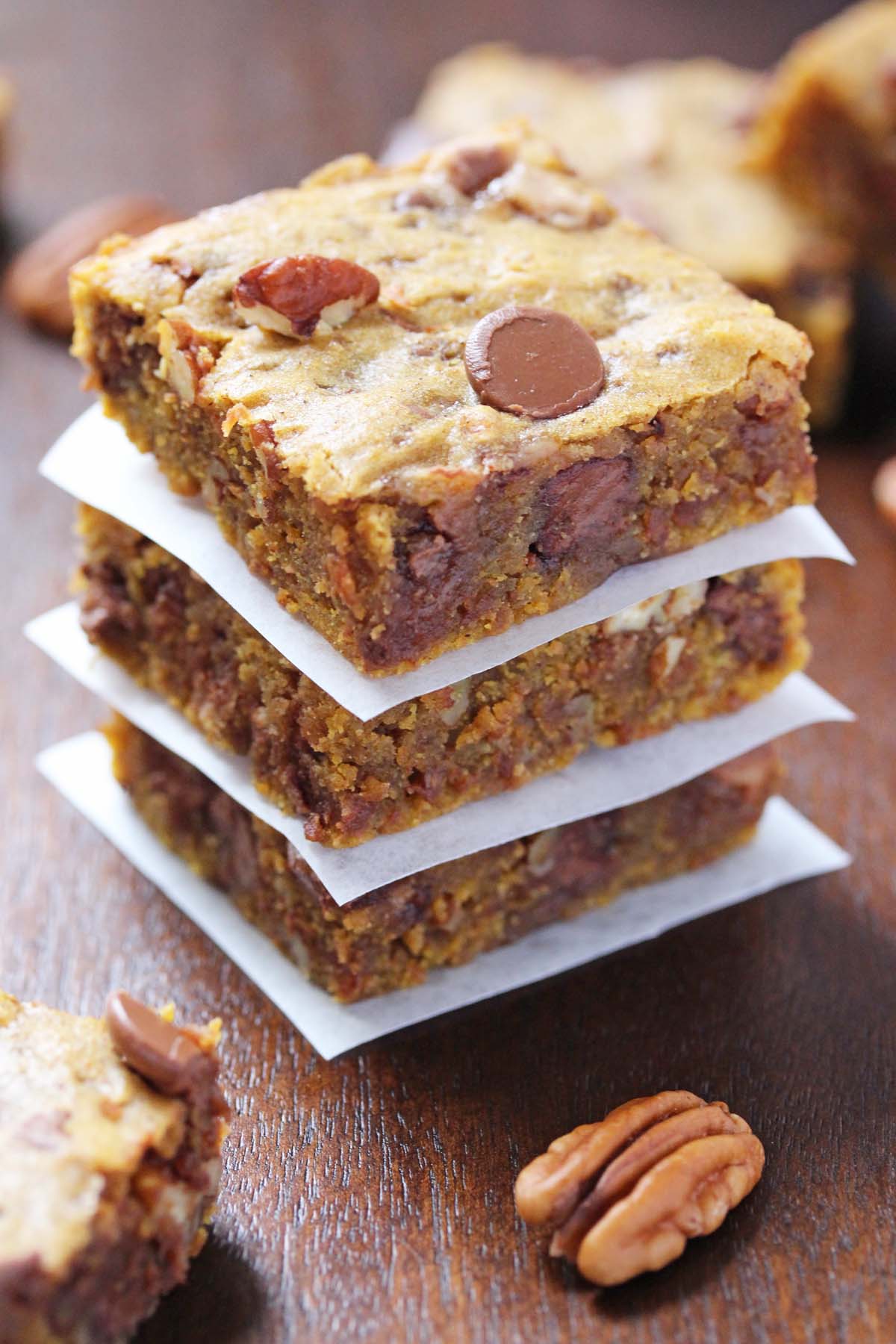 So I know fall has not officially arrived since it doesn't really begin until later in September and I also know that we are experiencing a little bit of a heat wave here in NYC. So while it feels nothing like fall – I caved, yes I simply couldn't resist the urge to use pumpkin any longer. Plus these bars taste too good not to share – and its not just because I made them as a special work out treat (more about that in a second), they are just genuinely deeee-licious.
Workout treat you ask? I tried out one of those free UXF demo classes, because I feel I need to mix it up once in a while, ya know *flex*. The class was awesome and the time flew by. That is, up until the last 10 minutes of the class, when, what happens? who gets a charley horse?… this girl. To top it off I responded with a "I am just going to walk this off a bit" – WHAT!!! hehe so I did a few stretches, hobbled around, and massaged it until it went away. That serves me right for not doing my proper stretches the last two times I worked out. Aside from a slightly bruised ego, all in all, it was a good day. But – that deserved a reward. A responsible portion of one two of these pumpkin blondies!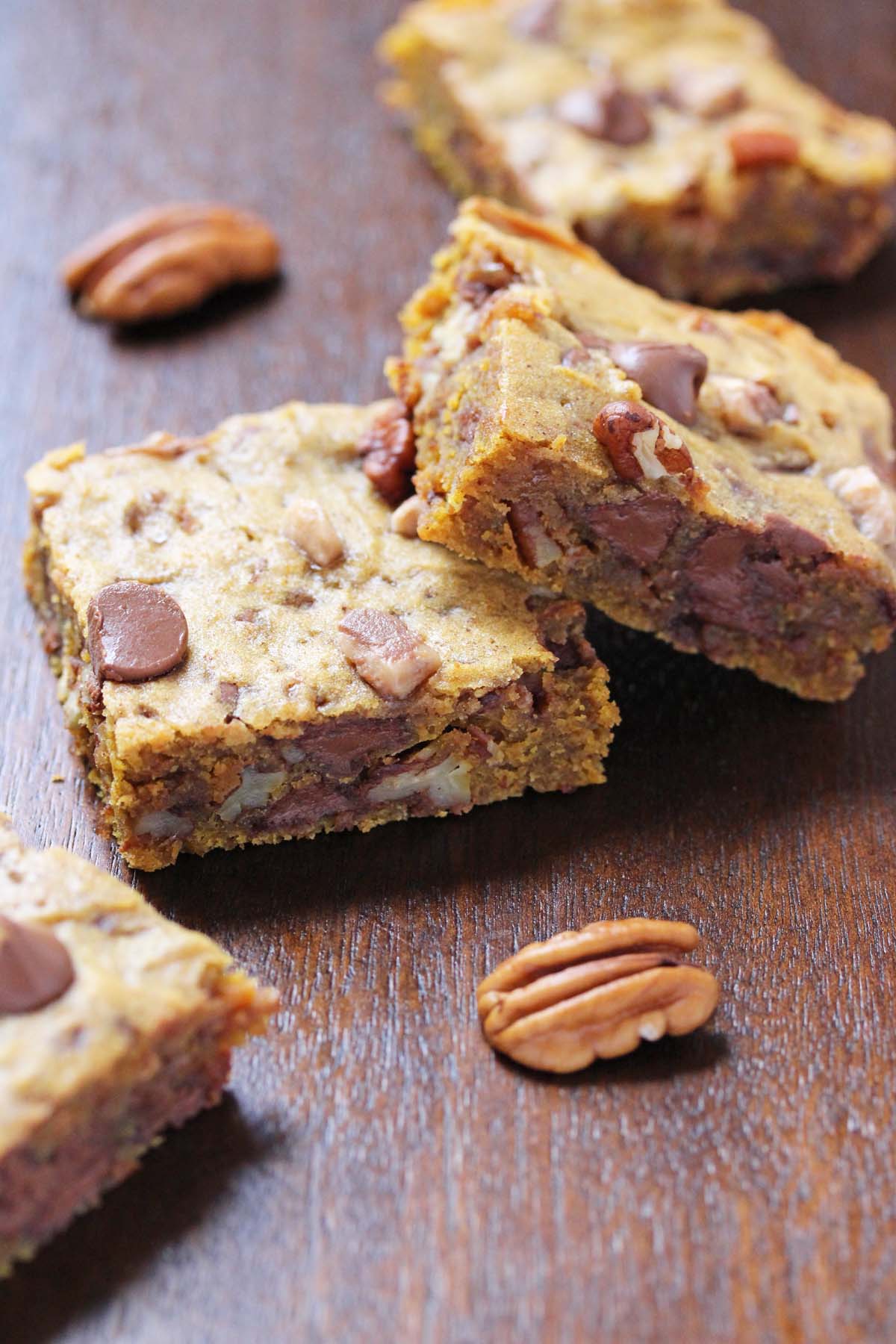 I started with a browned butter and pumpkin base mixed with warm spices like cinnamon and cloves. Then I tossed in some milk chocolate chips, toffee bits, and chopped pecans for good measure. The result was a tender, pumpkin pie flavored blondie with hints of chocolate, toffee, and crunchy pecans throughout. I also enjoy these bars served up slightly warm with a scoop of ice cream (cheat day?)!
Pumpkin Blondies
Yields: 12 bars
1 cup of all -purpose flour
1/4 teaspoon of salt
1 teaspoon of ground cinnamon
1/4 teaspoon of ground ginger
1/8 teaspoon of ground cloves
1/8 teaspoon of ground nutmeg
1 stick of unsalted butter, melted and browned
1/2 cup of light brown sugar, packed
1/4 cup of granulated sugar
1 large egg, room temperature
1 teaspoon of pure vanilla extract
1/2 cup of pumpkin puree
1/2 cup of milk chocolate chips
1/2 cup of toffee pieces (I used heath milk chocolate toffee bits)
1/2 cup of pecans, chopped
Directions
Preheat the oven to 350 degrees and grease and 8-inch square baking pan. line the pan with a piece of parchment paper with a 2-inch overhang of parchment paper on two sides. Lightly grease the parchment paper.
In a medium bowl mix together the flour, salt, cinnamon, ginger, cloves and nutmeg. Set aside.
Place the stick of butter in a small sauce pan. Melt the butter over medium low heat, whisking frequently, until it turns a golden nut brown and brown specks just start to form on the bottom of the pan. Transfer the butter to a small heat safe bowl and allow to cool. About 12 minutes.
In a large bowl whisk together the browned butter, brown sugar and granulated sugar until smooth. Add the egg and vanilla extract and whisk to incorporate. Add the pumpkin and whisk again until incorporated. Gradually add the flour mixture and mix until just combined, with a few flour streaks remaining. Make sure not to over mix.
Fold in the chocolate chips, toffee bits and pecans. Transfer the batter to the prepared pan and smooth the top with a spatula. I then sprinkled the top of the bars with a few extra chocolate chips, toffee bits and pecan pieces. This part is completely optional.
Bake the bars for 30 -35 minutes or until a toothpick inserted into the center comes out clean. Carefully transfer the bars to a wire rack to fully cool. Once the bars have fully cooled you can slice and enjoy!