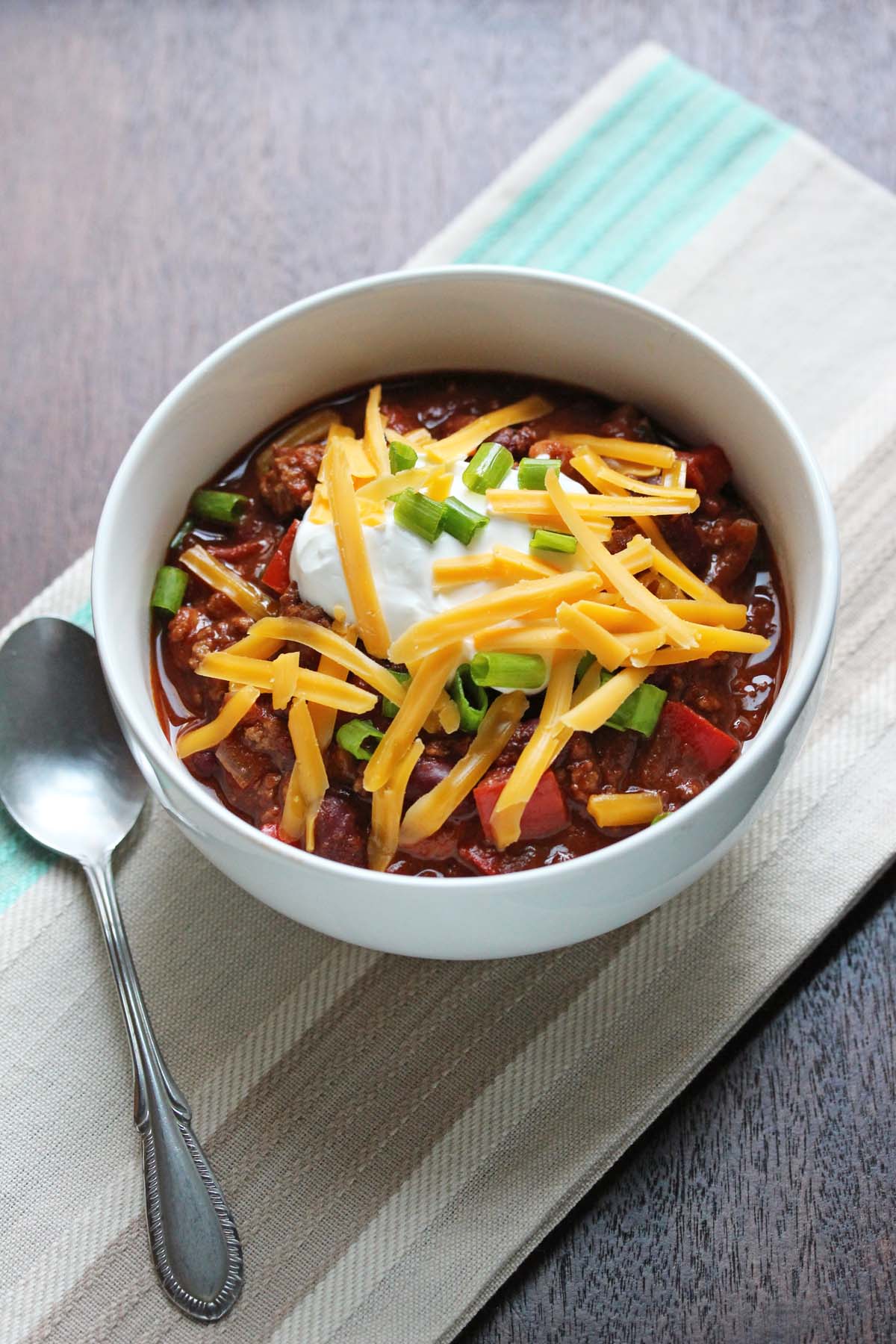 As that temperature drops outside it's time to start busting out the crockpot! I love those crockpot dishes that can cook for hours, filling the house with lovely aromas. Chili is one of those classic crockpot recipes. Here is my take – with a spicy kick and just a little chocolate to give it a bit of depth and that perfect color.
Great for game days, cold days, most any days… Fill four bowls with this delicious chili and make four new friends! Or three if you want one your self. Oh heck, you are going to be so happy you gave a bowl to yourself that you will friend yourself as well- four friends!
Beef Chili
Yields: 4 servings
2 tablespoons of olive oil, divided
1 pound of ground sirloin
1 small yellow onion, chopped
2 large cloves of garlic, minced
1 pinch red pepper flakes
1 heaping cup of mixed bell peppers, chopped (about 2 small bell peppers)
1/2 a jalapeno, finely chopped and a few seeds added
1 15.5oz can of dark kidney beans, rinsed and drained
1 15.5oz can of pinto beans, rinsed and drained
1 14.5oz can of fire roasted tomatoes
1 28oz can of tomato sauce
1/4 cup of low sodium chicken broth
1/2 tablespoon of ground cumin
1 tablespoon + 1/4 teaspoon of chili powder
1 pinch of cayenne pepper
1 bay leaf
Salt and pepper to taste
3/4 ounce of unsweetened chocolate, chopped
Toppings
1 small bunch of scallions, chopped
sour cream
sharp cheddar cheese, grated
Directions
In a large frying pan heat 1 tablespoon of olive oil over medium heat. Add the yellow onion and cook until tender. About 5 minutes. Stir in the crushed red pepper flakes and garlic. Cook until fragrant about 1 minute. Add the meat and cook until browned and fully cooked. Breaking up the meat with the back of a wooden spoon while it cooks.
Drain the grease and add the meat mixture to the crock pot.
Using the same frying pan heat the remaining 1 tablespoon of olive oil. Add the mixed bell peppers and the jalapeño. Cook until tender. Then add to the crock pot.
Add the remaining ingredients (except save the chocolate) to the crock pot. Stir the mixture until combined well. Cook on high for one and a half hours.
After one and a half hours, carefully remove the lid and add the chopped chocolate. Stir until incorporated. Replace the lid. Heat for another 30 minutes on low.
Discard the bay leaf and garnish with scallions, sour cream, and cheddar. Enjoy!