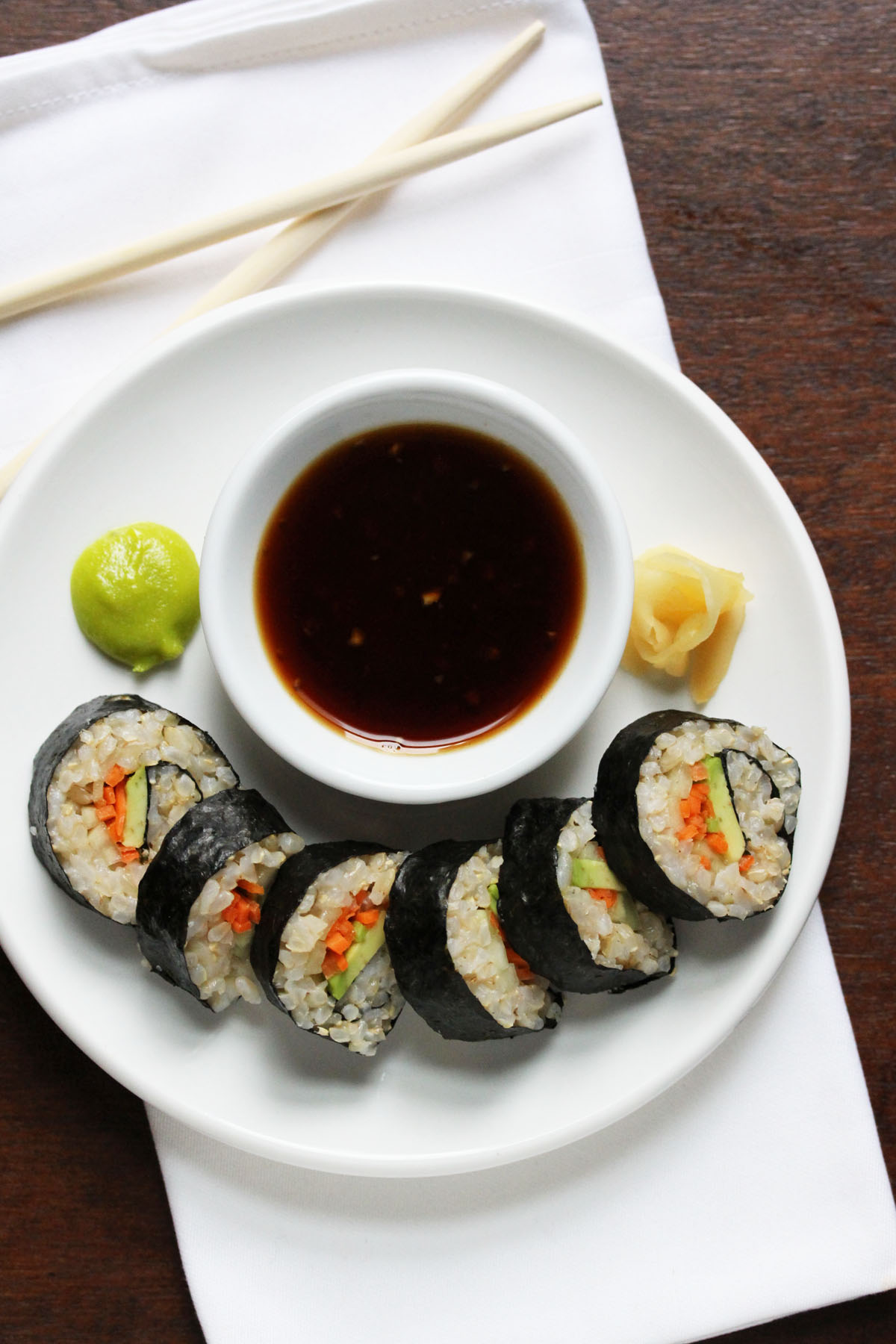 With the holiday season in full swing I have been looking for a few healthier options to help balance out all of the cookies and cold weather comfort foods I have been indulging in.
These brown rice sushi rolls started out as a fun spur of the moment dish that has quickly become a meal time favorite around here. Seriously I have been requesting these at least once a week! Pair these rolls with some of the teriyaki sauce from last weeks post for a delicious dish that will have your taste buds singing.
Steamed brown rice, fresh carrots, cucumber, and avocado all neatly wrapped up in toasted sheets of seaweed.
 Vegetable Sushi Rolls
Yield: 18-24 rolls depending on the size
1 cup of uncooked short grain brown rice
1 small carrot, peeled and julienned
1 medium cucumber, peeled and cut into thin matchstick pieces
1/2 a ripe avocado, sliced thin
3 full sheets of toasted nori
teriyaki sauce, for dipping
Directions:
Cook rice according to the directions. While the rice cooks you can prepare the carrots and cucumber.
Once the rice is cooked allow to cool slightly. While the rice cools slice the avocado.
One at a time place a sheet of nori, shiny side down onto a cutting board. Evenly spoon some of the brown rice onto the nori sheet, leaving a 1/4-inch edge along the top of the sheet.
Place a few strips of cucumber, carrot, and avocado into the center of the sheet. Make sure not to overfill.
Starting at the bottom of the sheet roll upwards gently securing the filling as you continue to roll. The warmth of the rice should secure the roll. You can always dip your fingertips into some cold water and wet the edge of the wrap to better secure it.
With the seam side down, using a sharp knife carefully slice the roll into 6-8 rounds. I dip the blade of the knife in cold water to make for easier slicing.
Serve the sushi rolls with some of your favorite sauces and enjoy!