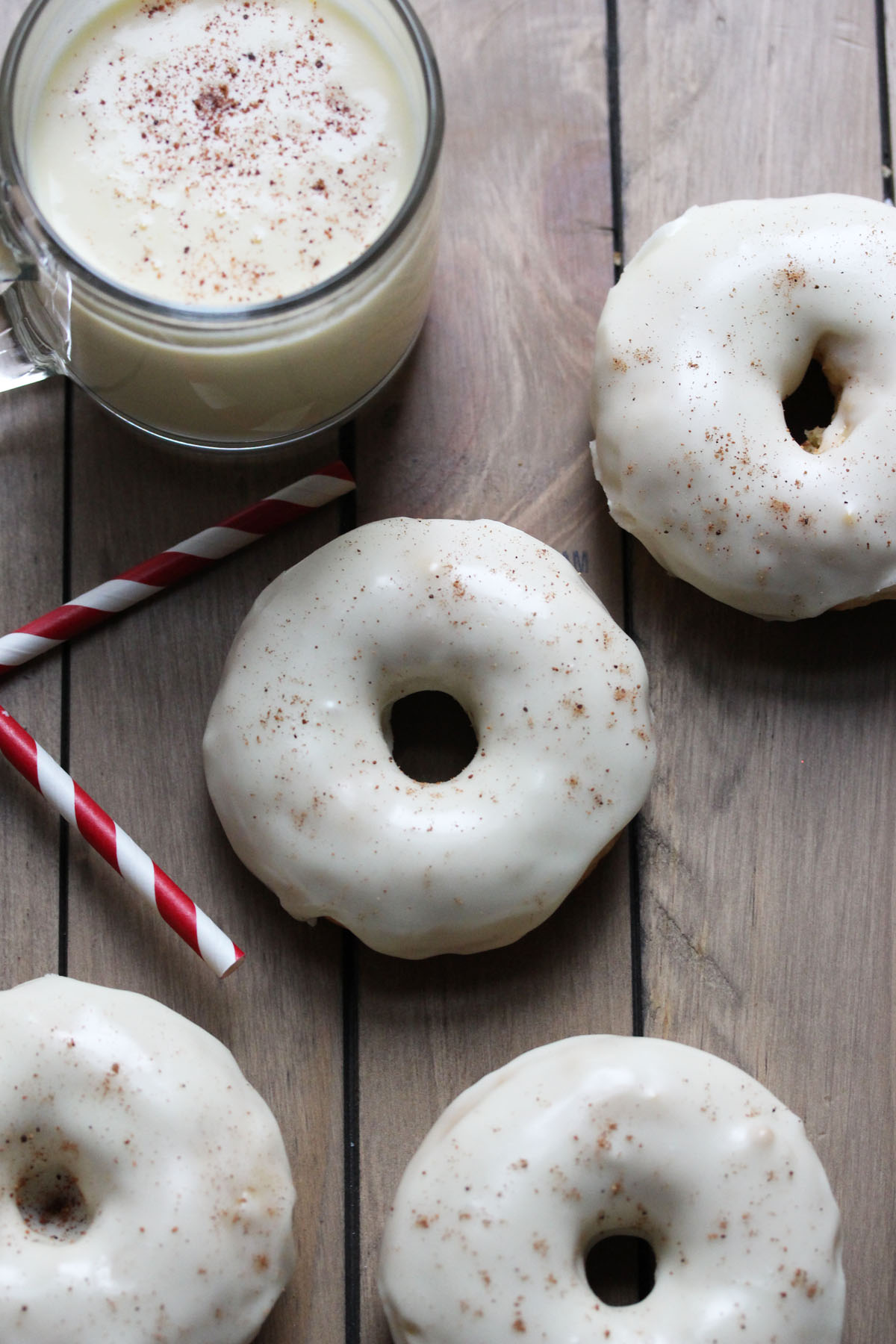 Tis' the season for some eggnog! Spread the holiday cheer with these spiked eggnog doughnuts. Since it's only the beginning of December I have been "trying" to not go overboard on all the holiday drinks and desserts I see at the store…but I couldn't say no to a little bit of eggnog, I mean I waited all year for this stuff!
Matthew however is not super into eggnog so I came up with these doughnuts to try to convince him to give eggnog another chance. While I am not too sure he will indulge in a cup of eggnog by itself, he did say he really liked the doughnuts and would gladly eat them again… So i'll take that as a baking success!!! I loved these doughnuts so much so that I can easily say these will make another debut on christmas morning with a hot cup of coffee.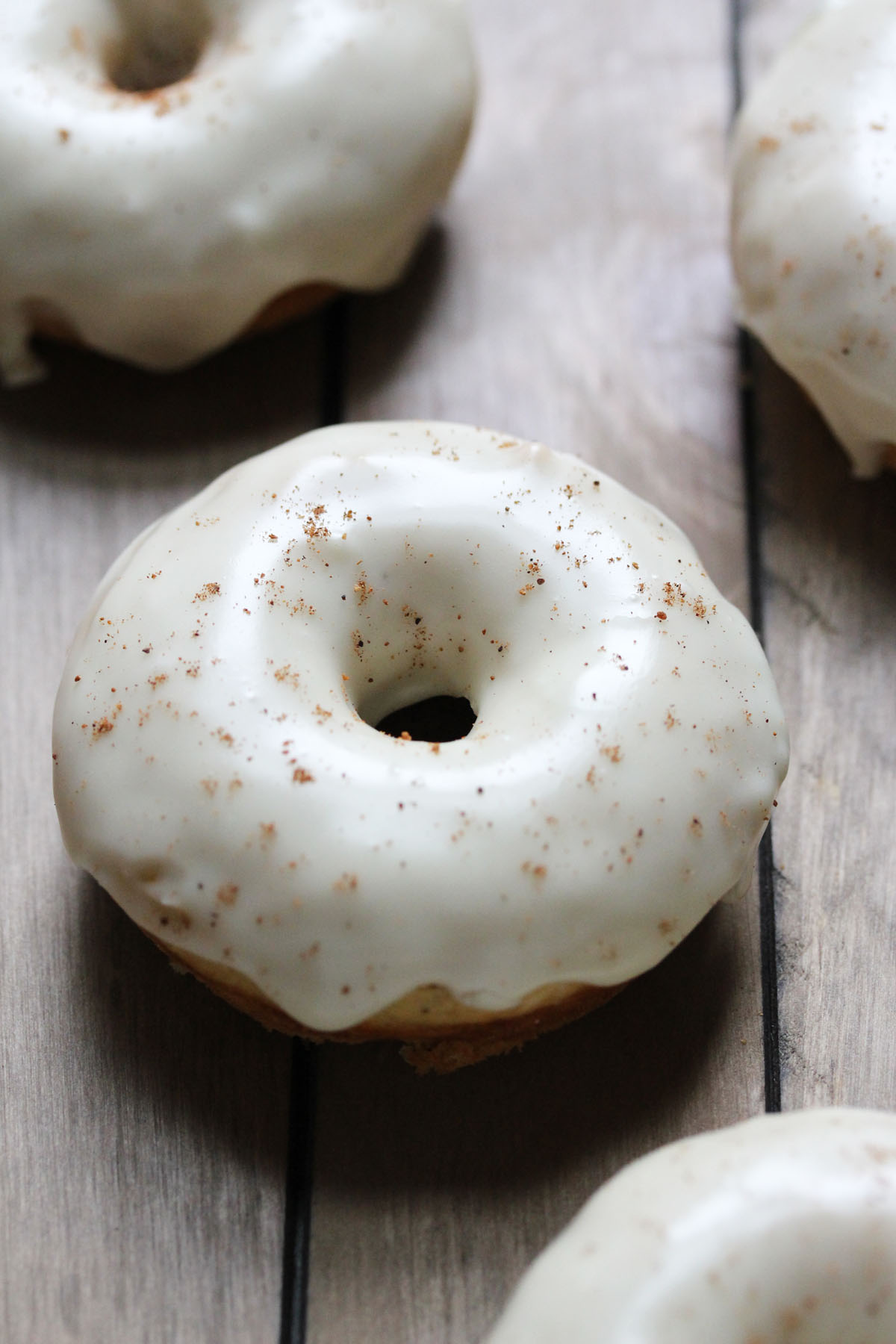 Rich and creamy spiced eggnog, rum, and additional warm spices blended throughout a moist yet tender crumb. Topped with a sweet eggnog glaze with a hint of rum.
Spiked Eggnog Doughnuts 
Yield: 6 doughnuts
Doughnuts
1cup plus 2 tablespoons of all-purpose flour
1 teaspoon of baking powder
1/4 teaspoon of baking soda
1/4 teaspoon of kosher salt
1/8 teaspoon of ground nutmeg
1 pinch ground cinnamon
2 tablespoon of unsalted butter, melted and slightly cooled
1/4 cup light brown sugar, lightly packed
1/2 cup of eggnog
1/4 cup of buttermilk, shaken
1 large egg room temperature
1/2 teaspoon of rum
Eggnog & Rum Glaze
2 cups of powdered sugar
1/4 cup plus 2 tablespoons of egg nog
1/4 teaspoon of rum
ground nutmeg to garnish (optional)
Directions
Preheat the oven to 325 degrees and grease a doughnut pan.
In a medium bowl sift together the flour,baking powder, baking soda, salt, nutmeg, and cinnamon.
In a separate bowl mix together the melted butter and brown sugar until combined. Add the eggnog, buttermilk, egg, and rum and mix until incorporated.
Gradually add the flour mixture to the eggnog mixture and mix until just combined. Make sure not to over mix.
Spoon or pipe the batter into each section of the doughnut pan filling it about 3/4 of the way full.
Bake for 13 minutes or until the doughnuts are fully cooked through and spring back when lightly touched. Let the doughnuts cool in the pan before transferring them to a wire rack to fully cool. About 5 minutes. While the doughnuts cool you can get started on the glaze.
Eggnog & Rum Glaze
In a medium sized bowl whisk together the powdered sugar, eggnog, and rum until combined and smooth. Dip the cooled doughnuts one at a time, top side down into the glazeTransfer the glazed doughnut back onto the cooling rack and garnish with a sprinkle of ground nutmeg. repeat with the remaining doughnuts and Enjoy!