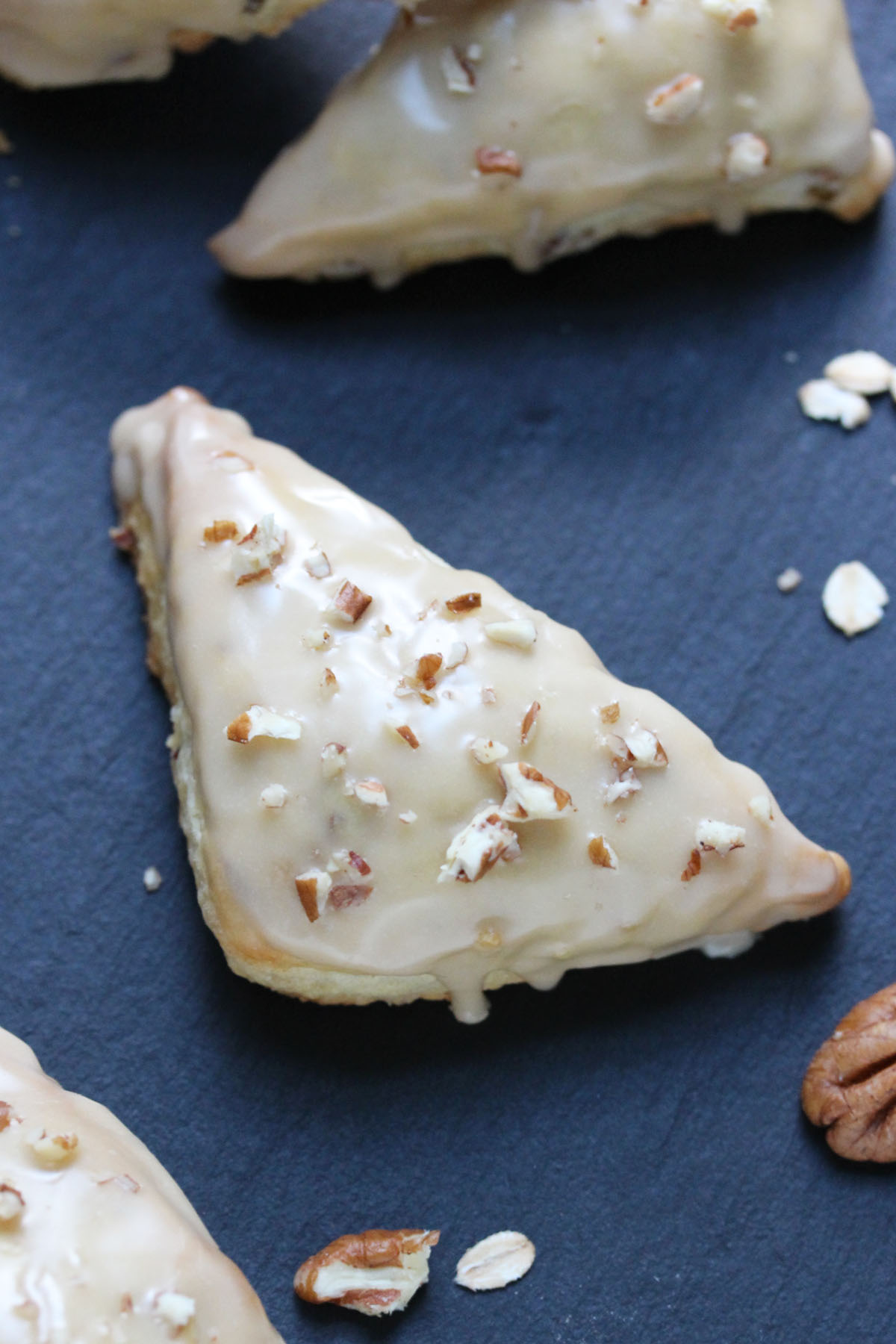 Happy 2015 everyone! Start off your New Year in sweet style with a batch of these miniature maple, oat, and pecan scones. Not only do these scones have a touch of maple syrup baked right in, they also go for a quick dip in an oh so addicting mmm-maple glaze!
I wonder if the fact that these scones contain oatmeal offsets the outrageous number of these I devoured while "testing" them out…repeatedly? Probably not, but New Year's resolutions should include indulgences (we need sustainability here – right folks?)
Maple and Oatmeal Scones
Yield: 16 scones
Scones
1 and 3/4 cups of all-purpose flour
1 teaspoon of baking soda
1/2 teaspoon of salt
2 teaspoons of cream of tartar
2 tablespoons of granulated sugar
1 pinch of cinnamon
1/4 cup of old- fashioned rolled oats
4 tablespoons of cold unsalted butter, cut into tiny cubes
1/2 cup plus 2 tablespoons of cold heavy cream
1 cold large egg
2 tablespoons of maple syrup
1/4 cup of chopped pecans
Maple Glaze
1/2cup plus 2 tablespoons of confectioners sugar
4 tablespoons of maple syrup
1/2 teaspoon of pure vanilla extract
Finely chopped pecans (optional)
Directions
In a large bowl sift together the flour, baking soda, salt, cream of tartar, granulated sugar, and cinnamon. Add the oats and pecans to the flour mixture and give it a quick stir to combine. Add the butter and using a pastry blender cut the butter into the flour and oat mixture until crumbly and pea sized pieces of butter remain. Make a well in the center of the flour mixture.
In a small bowl whisk together the cream, egg, and maple syrup. Add the cream mixture to the flour mixture and stir until the dough just comes together. Make sure not to over mix.
Transfer the dough to a lightly floured work surface. With floured hands gently knead the dough 3-4 times to bring the dough together. Divide the dough in half. One at a time roll each portion of dough into a square (I used about a 5×5 inch square) with a 1/2 inch thickness. Cut each square into quarters. Cut each quarter in half diagonally. For a total of 16 triangles.
Transfer the scones to two large rimmed baking sheets lined with parchment paper and refrigerate for 20 minutes. Make sure to leave some space between each scone.
Preheat the oven to 400 degrees.
Once the scones have finished chilling, bake until fully cooked and the edges just start turning golden brown. About 8-10 minutes. Allow the scones to cool completely.
While the scones cool you can prepare the maple glaze.
Maple glaze
In a small bowl whisk together the confectioners sugar, maple syrup, and vanilla extract until smooth. One at a time, carefully dunk the top of each cooled scone into the glaze. Transfer the glazed scones to a cooling rack and quickly sprinkle with finely chopped pecans (if using) and allow the glaze to fully set. Enjoy!