Baked Red Velvet Doughnuts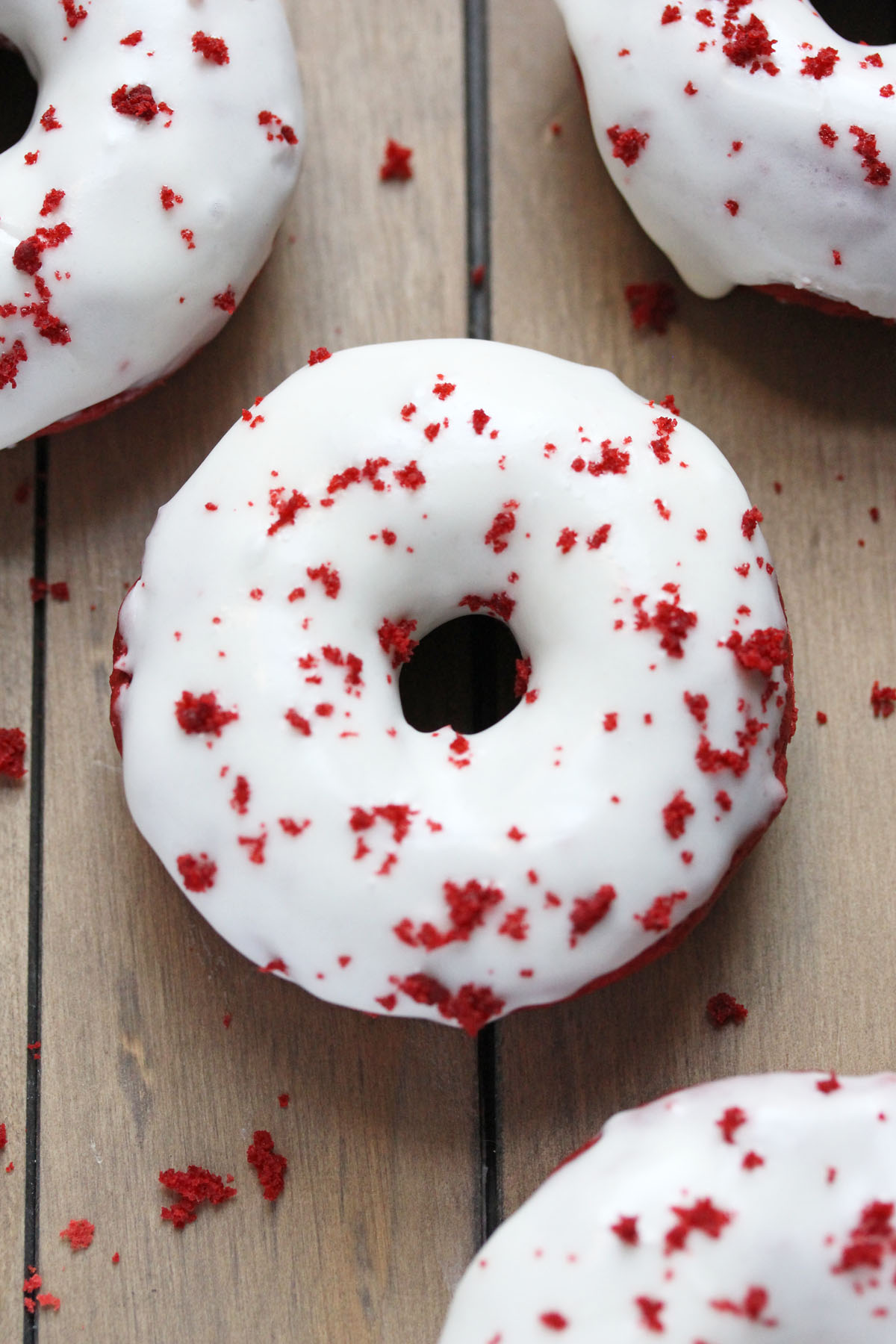 Red velvet cake for breakfast anyone?
These super simple and delicious red velvet cake inspired doughnuts totally happened last weekend! Number one, because I simply couldn't resist in keeping up with the trend of all things red velvet-y happening right now (anyone tried those oreos? – still need to try them!) and number two, because I absolutely love coming up with new excuses recipes to use my doughnut pan! After scarfing down two of these, they somehow made trekking out into the freezing cold that much easier, or perhaps it was the fact that I knew their were some leftover at home…either way!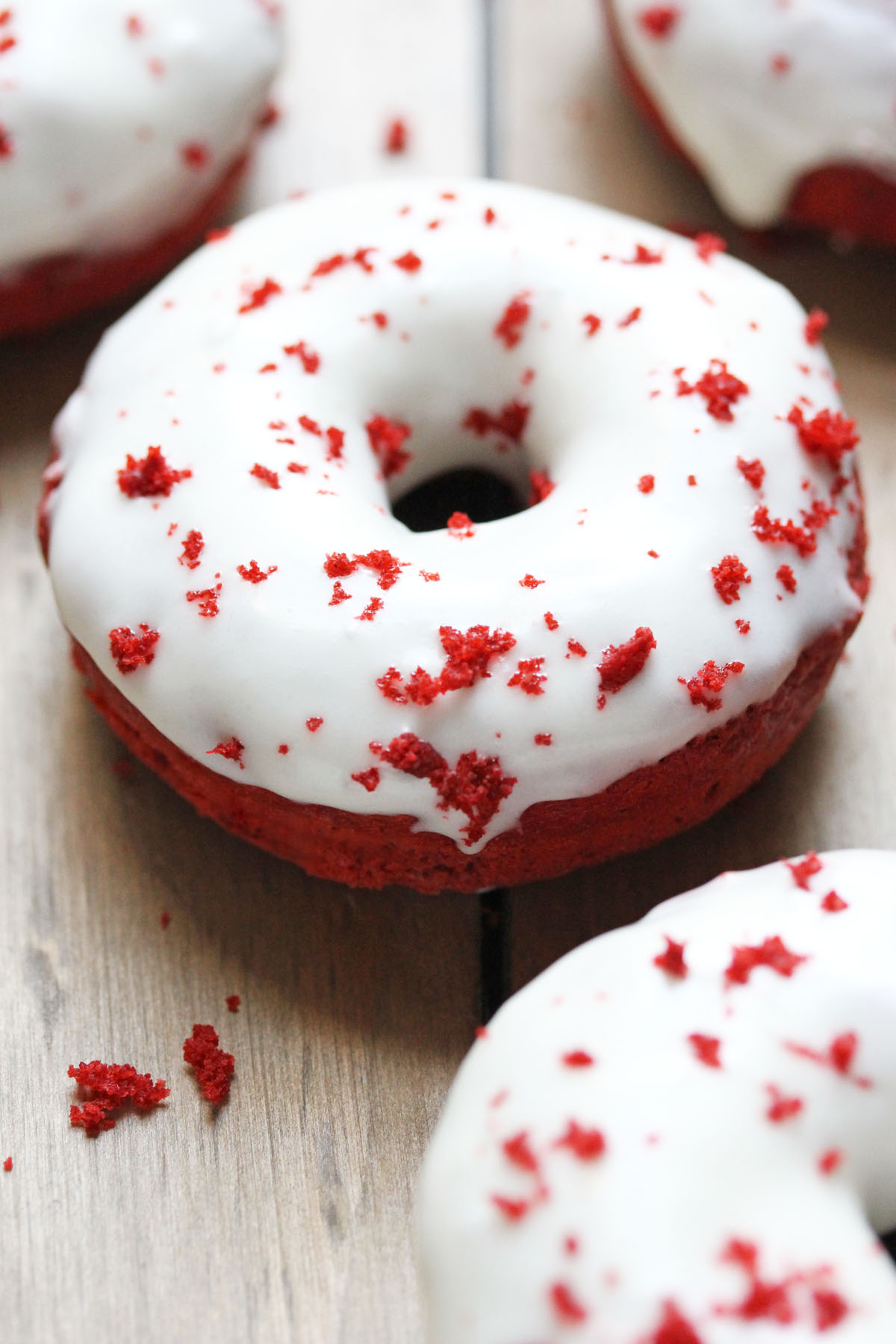 A slightly sweet, and tender crumb with hints of cocoa throughout, dipped in a tangy cream cheese glaze and topped with cake crumbs. Oh and lets not forget that beautiful red hue!
Baked Red Velvet Doughnuts
Yield: 6 doughnuts
Doughnuts
3/4 cup of cake flour (not self rising)
1/4 cup plus 2 tablespoons of all-purpose flour
1 teaspoon of baking powder
2 tablespoons of unsweetened cocoa powder
1/4 teaspoon of salt
2 tablespoons of unsalted butter, melted and slightly cooled
1/3 cup of granulated sugar
1/2 cup of buttermilk, shaken
1 large egg, room temperature
1 teaspoon of pure vanilla extract
1/2 of a teaspoon of red gel food coloring
1/4 teaspoon of baking soda
1/2 teaspoon of white vinegar
 Cream Cheese Glaze
3 tablespoons of cream cheese, softened
3 tablespoons of whole milk
1/2 teaspoon of pure vanilla extract
1 and 1/2 cups of confectioners sugar, sifted
sprinkles* (optional)
* I crumbled up part of one doughnut to use for decorating.
Directions
Preheat the oven to 325 degrees and grease a doughnut pan
In a medium bowl sift together the flours, baking powder, cocoa powder, and salt.
In a separate bowl mix together the melted butter, sugar, buttermilk, egg, vanilla extract and food coloring and stir until combined. Add the buttermilk mixture to the dries and give it 1-2 quick stirs. The mixture should not be combined at this point.
lastly in a small bowl add the baking soda and vinegar, let it foam. Add the vinegar mixture to batter and stir until just combined. make sure not to over mix.
Spoon or pipe the batter into each section of the doughnut pan filling it about 3/4 of the way full. Bake for 13 minutes or until the doughnuts are fully cooked through and spring back when lightly touched. Allow the doughnuts to cool. About 5 minutes.
Gently turn out the doughnuts from the doughnut pan onto a wire cooling rack.
while the doughnuts are cooling you can prepare the topping.
Cream Cheese Glaze
In a small bowl whisk together the cream cheese, milk, vanilla extract, and confectioners sugar until combined and smooth. Dip the cooled doughnuts one at a time, top side down into the glaze. Transfer the glazed doughnut back onto the cooling rack and add some sprinkles. Repeat with the remaining doughnuts and Enjoy!