Peanut Butter Banana Cookies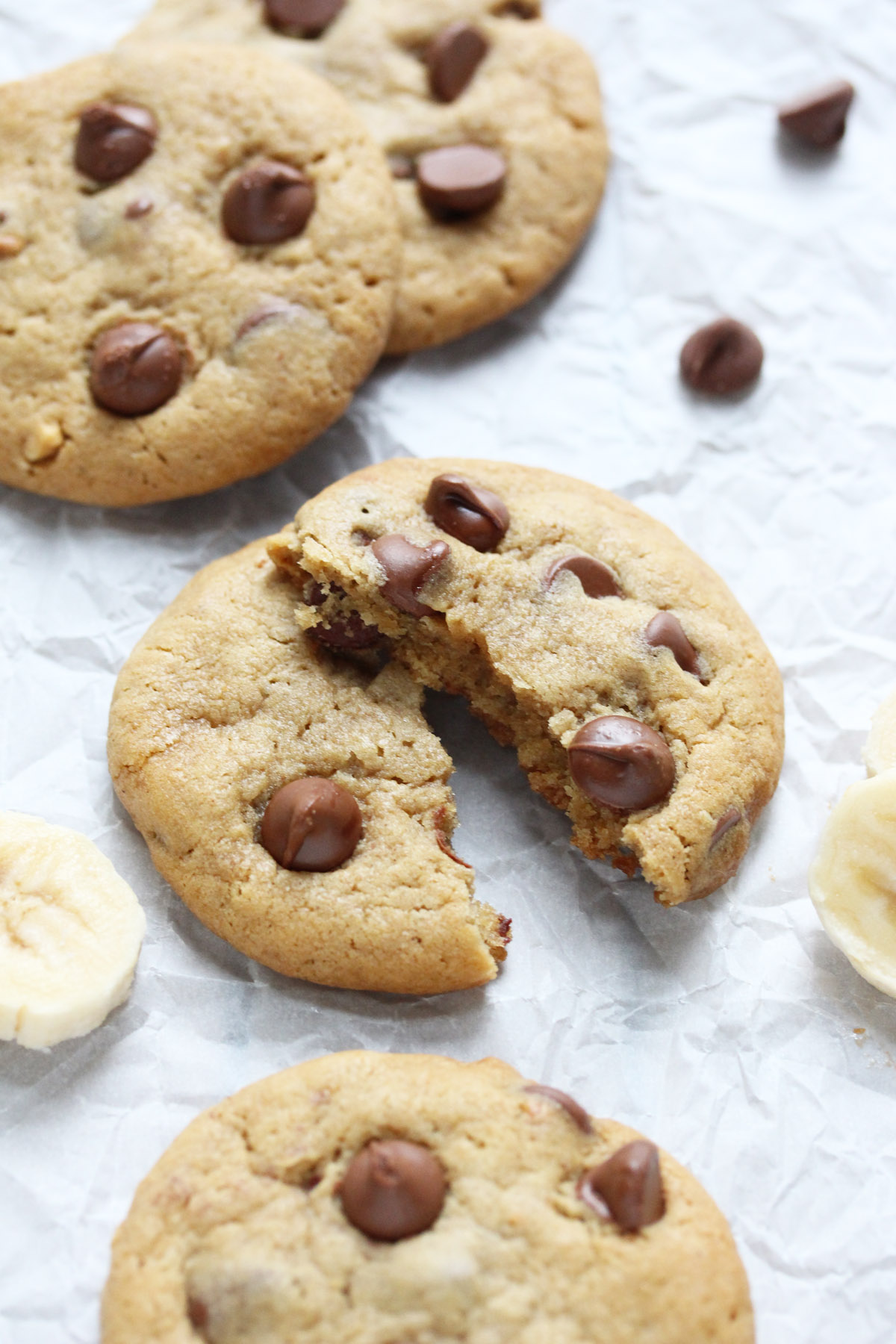 Peanut Butter + Banana + Milk Chocolate Chips = a locked cookie jar! Seriously these cookies are so, so good that I made them twice already. The first batch didn't last long enough for pictures. But alas with the second batch I managed to hold it together long enough to snap some pictures so you can see what I am talking about.
Crisp edges, a soft center with hints of peanut butter and banana in every bite and of course plenty of milk chocolate chips though out.
Peanut Butter Banana Cookies
Yields: 18 two tablespoon sized cookies
2 cups plus 2 tablespoons of all-purpose flour
3/4 teaspoon of baking soda
1/4 teaspoon of fine sea salt
1/8 teaspoon of ground cinnamon
1/2 of a stick of unsalted butter, melted and cooled
1 stick of unsalted butter, softened
3/4 cup of light brown sugar
1/4 cup of dark brown sugar
1/2 cup of granulated sugar
1/2 cup of peanut butter ( I used a mix of both creamy and crunchy)
1 large egg, room temperature
1/2 cup of mashed banana (about 1 medium banana)
1 teaspoon of pure vanilla extract
1 cup of milk chocolate chips
Directions
In a medium sized bowl whisk together the flour, baking soda, salt and cinnamon. Set aside.
In the mixer bowl with the paddle attachment, cream together 1 stick of butter, light brown sugar, dark brown sugar and granulated sugar until light and fluffy. About 5 minutes. Add the peanut butter, egg, banana, vanilla, and the 1/2 stick of cooled melted butter, and continue mixing until combined.
Gradually add the flour mixture until just combined. Do not over mix. Fold in the chocolate chips until incorporated.
Cover the dough with a piece of plastic wrap and refrigerate for a least 1 hour.
With 30 minutes left on the chill time preheat the oven to 350 degrees and line two baking sheets with parchment paper.
Scoop the dough into 2 tablespoon sized balls onto the prepare baking sheets. Leaving about 2 inches between each cookie so they have room to spread. I slightly pressed down each cookie with the palm of my hand and added a few extra chocolate chips to the top.
Bake the cookies for 14-16 minutes rotating halfway through until golden brown. Let the cookies cool on the baking sheets for 5 minutes before transferring them to a cooling rack to fully cool. Enjoy!