Blackberry Cornmeal Shortcakes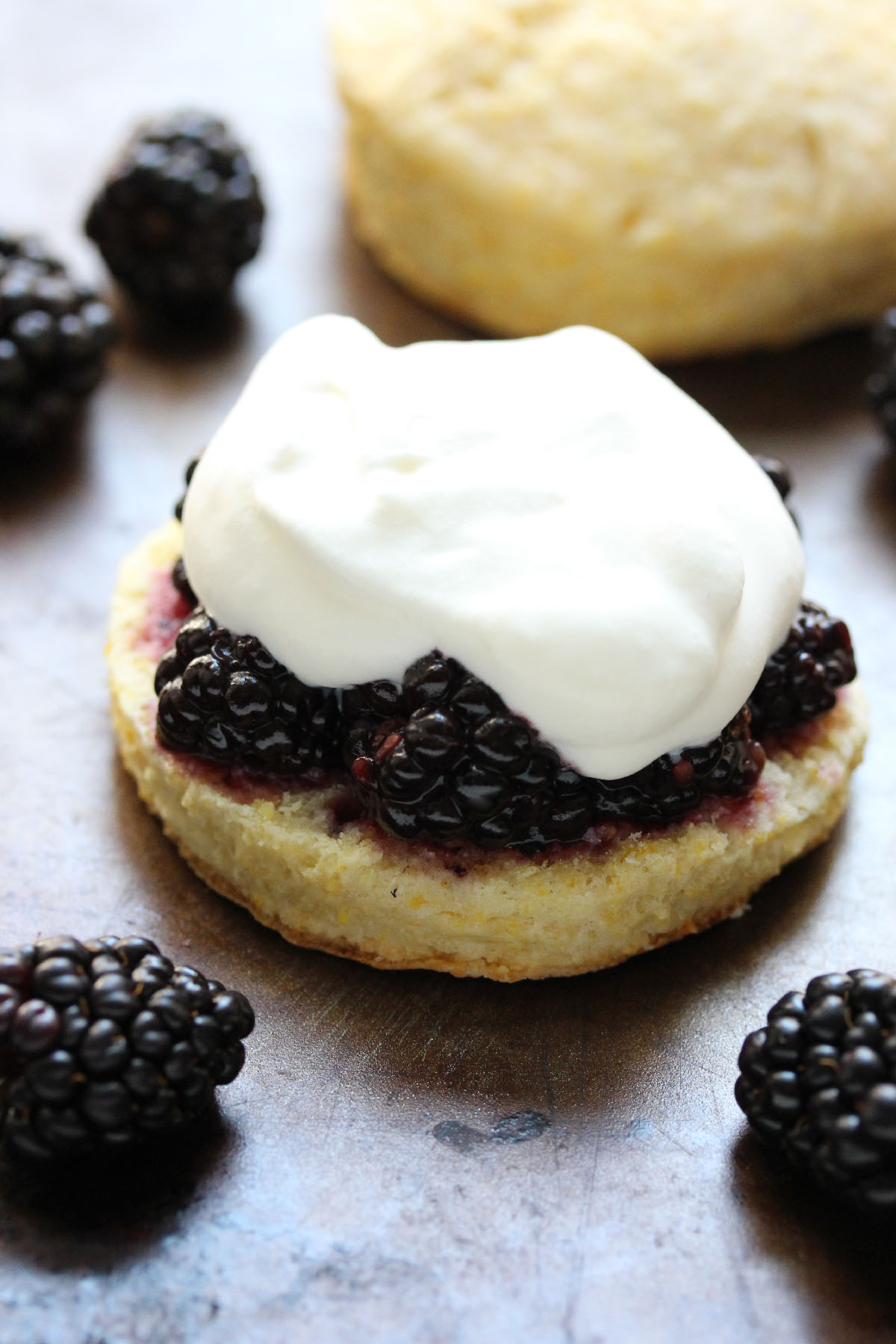 This is one of my favorites times to go to the market, warm sunny days mixed with a plethora of brightly  colored fruits and berries that are coming into season. What better way to celebrate berries than with some fresh from the oven shortcakes!
I chose some beautifully sweet and juicy blackberries to go with these shortcakes because why should strawberries have all the fun! Everything you love about shortcake with cornmeal and fresh lemon zest mixed in. The cornmeal gives these shortcakes a nice golden hue as well as adding a little bit of crunch to these lightly sweetened cakes. Top the whole dessert off with a generous dollop of whipped cream and enjoy!
Blackberry Cornmeal Shortcakes 
Yields: 6
Biscuits
1/4 cup of granulated sugar
1 teaspoon of fresh lemon zest
1/2 cup of cornmeal ( I used a medium- grind cornmeal)
1 and 1/2 cups of all- purpose flour
1/2 teaspoon of salt
1 and 1/2 teaspoons of baking powder
6 tablespoons of cold unsalted butter, cut into small pieces
1/2 cup plus 2 tablespoons of buttermilk, shaken
1 large egg
3 tablespoons of heavy cream, for brushing
coarse sugar (optional)
Blackberries
2 6oz containers of blackberries
2 tablespoons of granulated sugar
1/4 teaspoon of fresh lemon zest
1/2 teaspoon of fresh lemon juice
Cream
1 cup of heavy cream
2 tablespoons of granulated sugar
1/4 teaspoon of pure vanilla extract
Directions
In a large bowl add the sugar and lemon zest. Using your fingertips rub together the sugar and zest until fragrant and slightly damp. to the sugar mixture add the cornmeal and sift in the flour, salt and baking powder. Add the cubed butter and cut it into the flour mixture until crumbly and some pea sized pieces of butter remain. Make a well in the center of the flour mixture.
In a small bowl whisk together the buttermilk and egg. Add the buttermilk mixture to the flour mixture and stir until the dough just comes together.
With floured hands, transfer the dough to a lightly floured work surface. The dough will be quite shaggy. Knead the dough a few passes until it holds together more. Make sure not to over work the dough.
Gently pat the dough into a rough disc, about 1- inch thick. Use a biscuit cutter or drinking glass to cut the dough into rounds. Space out the biscuits onto a parchment lined baking sheet and refrigerate for 20 minutes.
Preheat the oven to 375 degrees.
Once the dough has finished chilling brush the top of each biscuit with some heavy cream and sprinkle with some course sugar. Bake for 15-20 minutes until risen and cooked through. Allow the biscuits to fully cool.
Blackberries
Using the back of a wooden spoon, mash up a heaping 1/4 cup of blackberries with the sugar, lemon juice and lemon zest in a large bowl until the sugar begins to dissolve. Gently toss in the remaining blackberries and let sit at room temperature, for about 20 minutes and the berries are nice and juicy.
Whipped Cream
Using a hand mixer beat the heavy cream, sugar and vanilla until soft peaks form.
Assembly
Slice a shortcake in half. Place the bottom half of the shortcake cut side up onto a plate. Spoon on some blackberries and top with a dollop of whipped cream. Replace the top and Enjoy!