Mini Pineapple Upside Down Cakes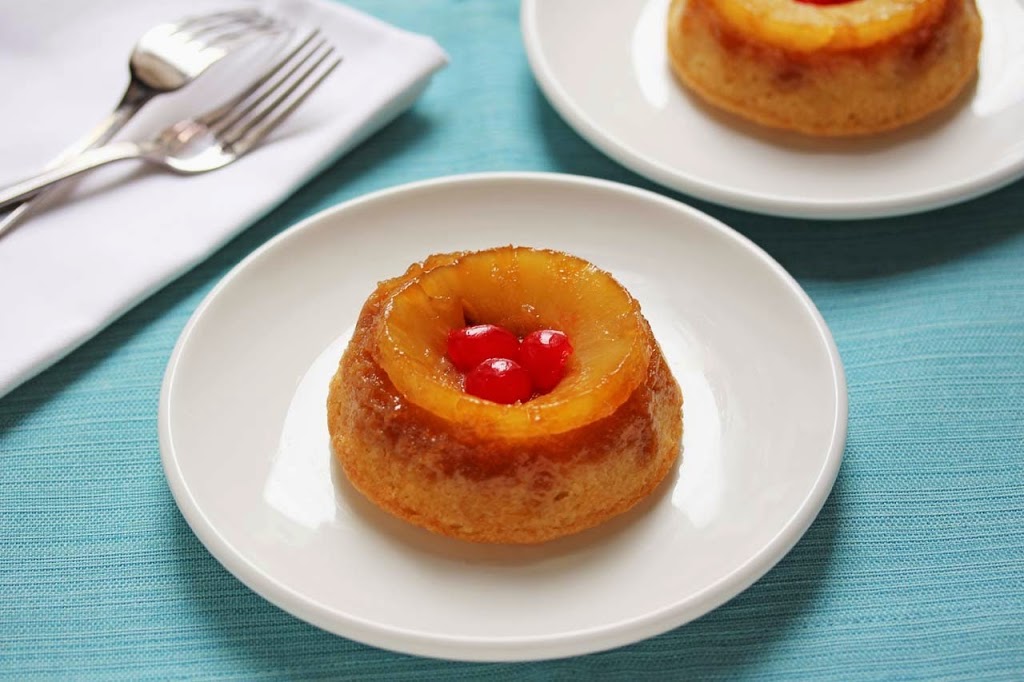 These mini pineapple upside down cakes make the perfect summertime treat! Not only do these cakes look adorable but they taste amazing. Like hide all your forks so you don't sneak another bite kind of amazing. A tender and moist vanilla cake, caramelized pineapple, and a sweet drippy brown sugar and butter mixture that soaks into the cake as it runs down the sides. Lets not forget the cherries on top to complete this deliciously classic cake.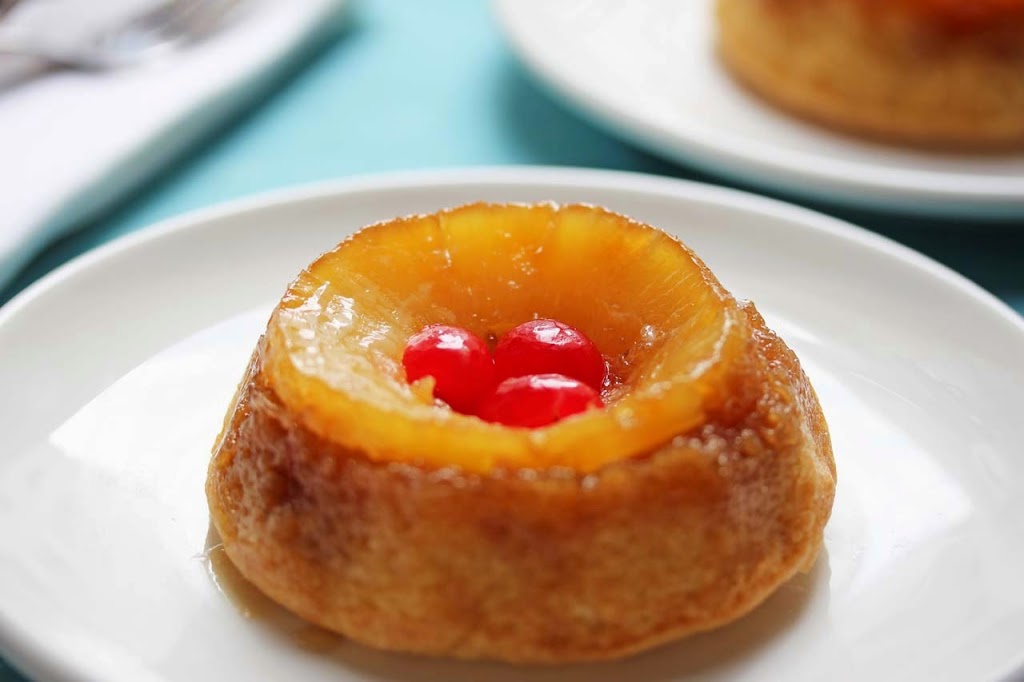 By the way, if these mini bundt cakes haven't convinced you to bake your own then perhaps you should take a quick peek here!
Mini Pineapple Upside Down Cakes
Source: Ashley Marie's Kitchen
Yield: 6 mini individual bundt cakes*
Topping:
1/4 cup (4 tablespoons) of unsalted butter, melted
3/4 cup of light brown sugar, packed
6 pineapple slices (canned or fresh)
Cake:
1 and 1/2 cups of all -purpose flour
1 and 1/2 teaspoons of baking powder
1/2 teaspoon of salt
6 tablespoons of unsalted butter, softened
3/4 cup of granulated sugar
1/4 cup of light brown sugar
1 large egg, room temperature
1/2 cup of buttermilk, shaken
1 teaspoon of pure vanilla extract
Garnish:
9 maraschino cherries, halved
Directions:
Preheat the oven to 350 degrees and grease six individual bundt pans.
Prepare the topping first:
In a small bowl add the melted butter and 3/4 cup of brown sugar and stir until combined. Spoon the warm butter and brown sugar mixture into the bottom of each greased bundt pan. About 1 tablespoon. Place 1 pineapple slice on top of the butter and sugar mixture for each cake.
Over a medium sized bowl sift together the flour, baking powder and salt. Set aside.
In the bowl of an electric mixer with the paddle attachment, cream together the butter and both sugars, until light and fluffy. About 3 minutes. Add the egg, buttermilk and vanilla and mix until incorporated.
Gradually add the flour mixture until just combined. Make sure not to over mix. The batter will be thick.
Pour the batter over the pineapple slices dividing it evenly into each bundt pan. (about 1/3 cup of batter per cake). Place the bunt pans onto a rimmed baking sheet to catch any overflow while baking. Bake for 20 -25 minutes or until a toothpick comes out clean, rotating halfway through. Cool for 15 minutes.
Set a wire cooling rack inside of a rimmed baking sheet. Then one at a time turn over the cooled bundt cakes onto the cooling rack. Gently taping the top and sides of the bundt pan to help loosen the cake. Top each bundt cake with 3 cherry halves and enjoy!
* Note: My individual bundt pans have a 1 cup capacity