I have made my fair share of cupcakes and I can easily say that these take the cake. Pun intended! Tender, moist, and oh so chocolaty; these really were love at first bite. After making these tasty vanilla cupcakes a few posts ago I knew I had to try my own version of a chocolate cupcake to go with it.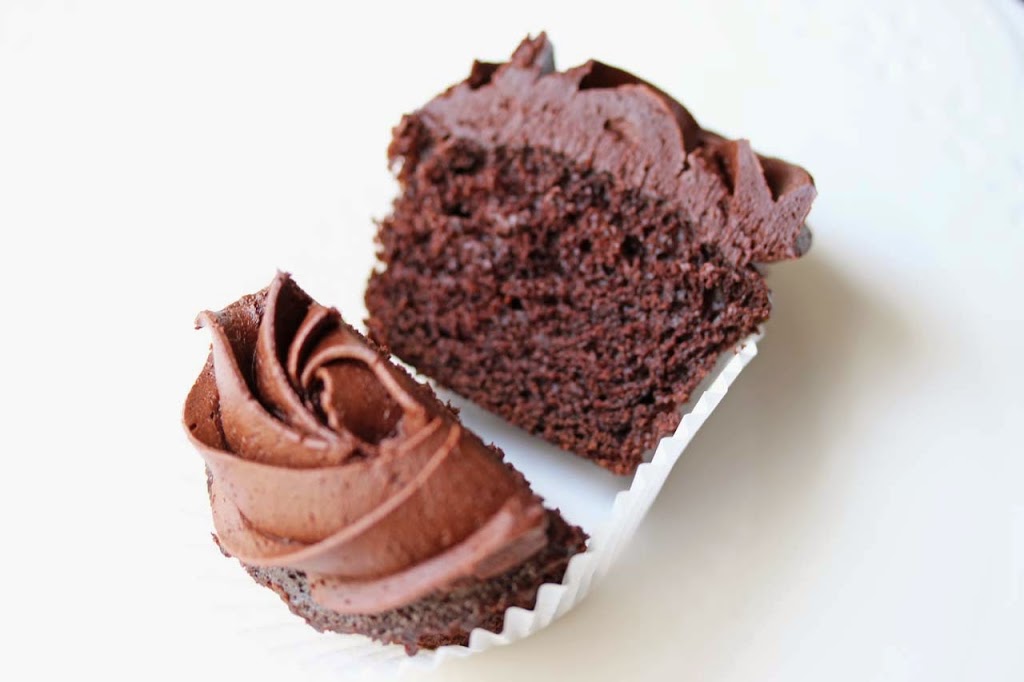 After testing out a few chocolate cake and frosting combinations (tough work eating cake) I came up with a pairing that got me an immediate high five! A moist, tender, slightly sweet chocolate crumb paired with a thick sweet and creamy cocoa buttercream. This is my new go to chocolate cupcake recipe that I can see with endless flavor combinations.
Chocolate Cupcakes
Source: Ashley Marie's Kitchen
Yield: 12 cupcakes
3/4 cup of bread flour
1/2 cup of unsweetened cocoa powder (I used dutch processed cocoa powder)
3/4 teaspoon baking powder
3/4 teaspoon of baking soda
1/4 teaspoon of salt
1/2 cup of granulated sugar
1/2 cup of light brown sugar, packed
1 large egg, room temperature
1 large egg yolk, room temperature
1/2 cup of buttermilk, shaken
1/4 cup of unsalted butter, melted and slightly cooled
1 teaspoon of pure vanilla extract
1/2 cup of brewed coffee, slightly cooled ( I used a medium roast coffee)
Directions:
Preheat the oven to 350 degrees and line a standard muffin pan with paper liners.
Over the bowl of an electric mixer sift together the bread flour, cocoa powder, baking powder, baking soda and salt. Using the paddle attachment add the brown and granulated sugars to the flour mixture and mix on low speed until incorporated.
In a medium bowl whisk together the egg, egg yolk, buttermilk, melted butter and vanilla. Gradually add the egg mixture to the flour mixture beating until just combined. About 1 minute on medium speed. Add the coffee and mix until just combined on low speed. Make sure not to over mix.
Divide the batter between the muffin cups. Make sure not to overfill. (I used about 2 tablespoons of batter per cupcake, you may have some left over batter). Bake rotating the pan halfway through for 17 -22 minutes and a toothpick inserted into the center comes out clean. Allow the cupcakes to cool completely.
While the cupcakes cool you can start the frosting.
Chocolate Buttercream:
1 cup (2 sticks) of unsalted butter, room temperature
3 and 1/2 cups of confectioners sugar, sifted
1 cup of unsweetened cocoa powder, sifted (I used dutch processed cocoa powder)
1/4 cup of heavy cream
1/2 teaspoon of pure vanilla extract
In the bowl of the electric mixer using the paddle attachment, cream the butter until smooth and creamy. About 3 minutes. Add the confectioners sugar, cocoa powder, heavy cream and vanilla and beat on low until incorporated. Increase the speed to medium -high and beat until smooth and creamy. Frost the cooled cupcakes and enjoy.