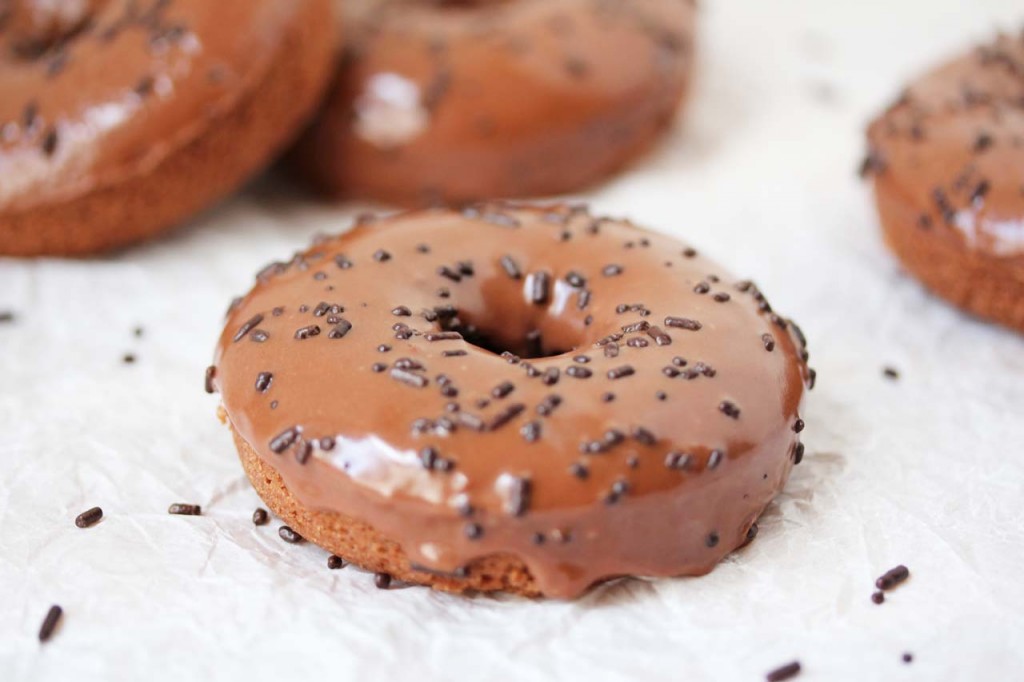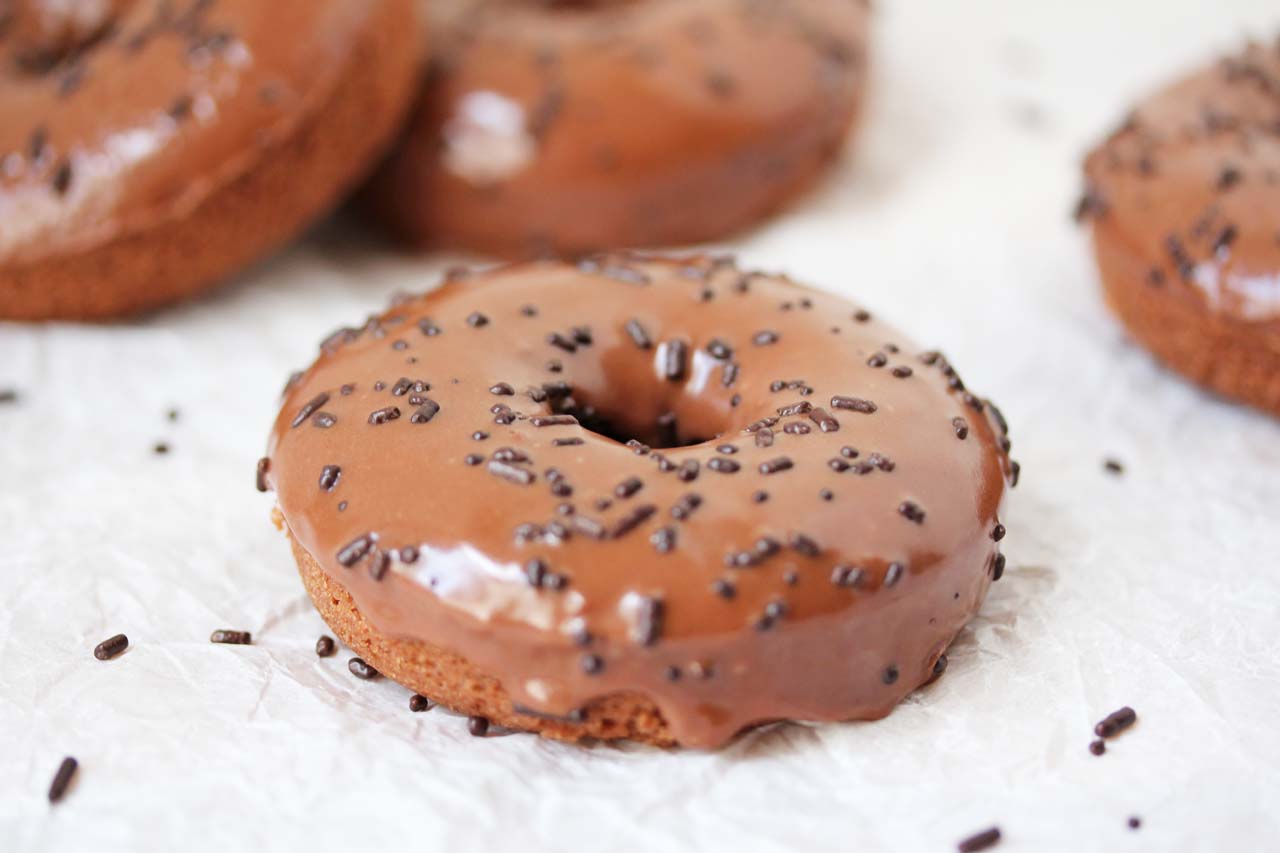 Do you remember these baked doughnuts I made a few posts ago? Well I've done it again and this time I made a doughnut all about Nutella. What can I say my favorite nutty spreads inspire me.
Often times we enjoy our Nutella spread on toast, fresh fruit, or simply straight off the spoon. But not today, no today I saw the Nutella jar atop the fridge and the thought of chocolate doughnuts made using this sweet, chocolaty spread came to mind and well it just sounded really, really good.  Sorry oatmeal.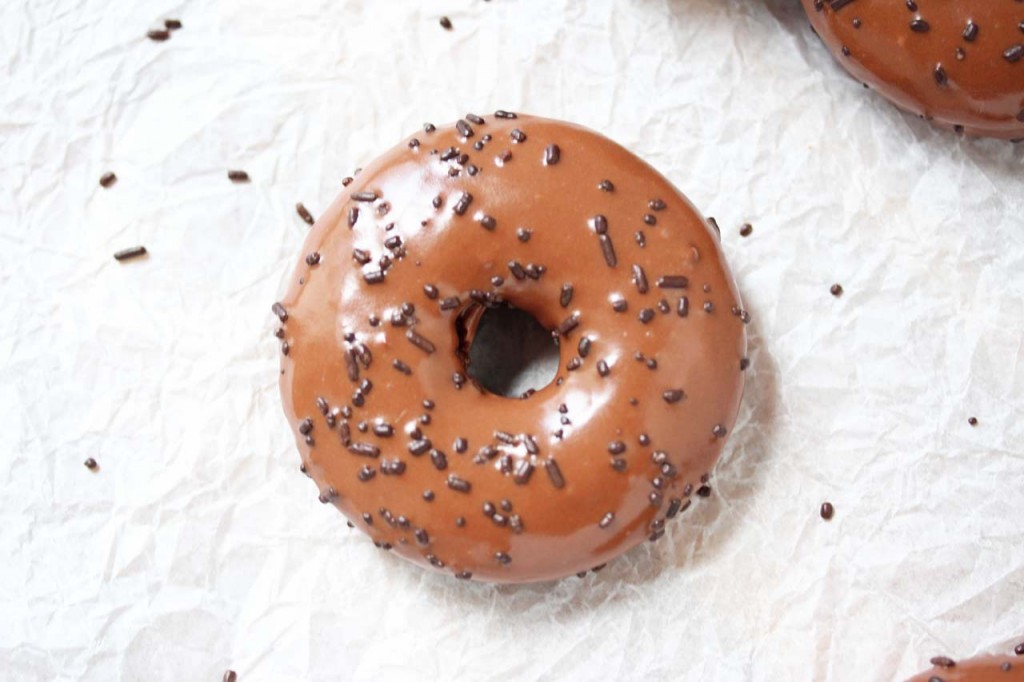 These double (triple, if you count the sprinkles) chocolaty doughnuts are a breakfast, or chocolate craving must have. A moist, sweet and tender crumb topped with a smooth Nutella glaze with a touch of chocolate sprinkles, because I couldn't resist.
Baked Nutella Doughnuts
Source: Ashley Marie's Kitchen
Yield: 6 doughnuts
Doughnut Batter
1 cup of all -purpose flour
1 teaspoon of baking powder
1/4 teaspoon of salt
2 tablespoons of unsalted butter, melted
1/3 cup of light brown sugar, packed
1/4 cup of nutella
1/2 cup of buttermilk, shaken
1 large egg, room temperature
1/2 teaspoon of pure vanilla extract
Nutella Glaze
1/2 cup of confectioners sugar
2 tablespoons of nutella
3-4 tablespoons of heavy whipping cream
chocolate sprinkles (optional)
Directions:
Preheat the oven the 325 degrees and grease a doughnut pan.
In a medium bowl sift together the flour, baking powder and salt. Stir to incorporate.
In a separate bowl mix together the melted butter, brown sugar and nutella until combined. Add the buttermilk, egg and vanilla and mix until incorporated.
Gradually add the flour mixture to the chocolate mixture and mix until just combined. Make sure not to over mix.
Spoon or pipe the batter into each section of the doughnut pan filling it about 3/4 of the way full. Bake for 13  minutes or until the doughnuts are cooked through and spring back when lightly touched. Keep a close eye on them so they don't over cook. Let the doughnuts cool in the pan for 5 minutes before transferring them to a wire rack to fully cool.
While the doughnut cool you can get started on the glaze.
Nutella Glaze
In a small bowl whisk together the confectioners sugar, nutella and heavy cream until combined and smooth. Dip the cooled doughnuts one at a time, top side down into the glaze, transfer the glazed doughnut back onto the cooling rack and add your toppings while the glaze is still wet. Repeat with the remaining doughnuts. Enjoy!