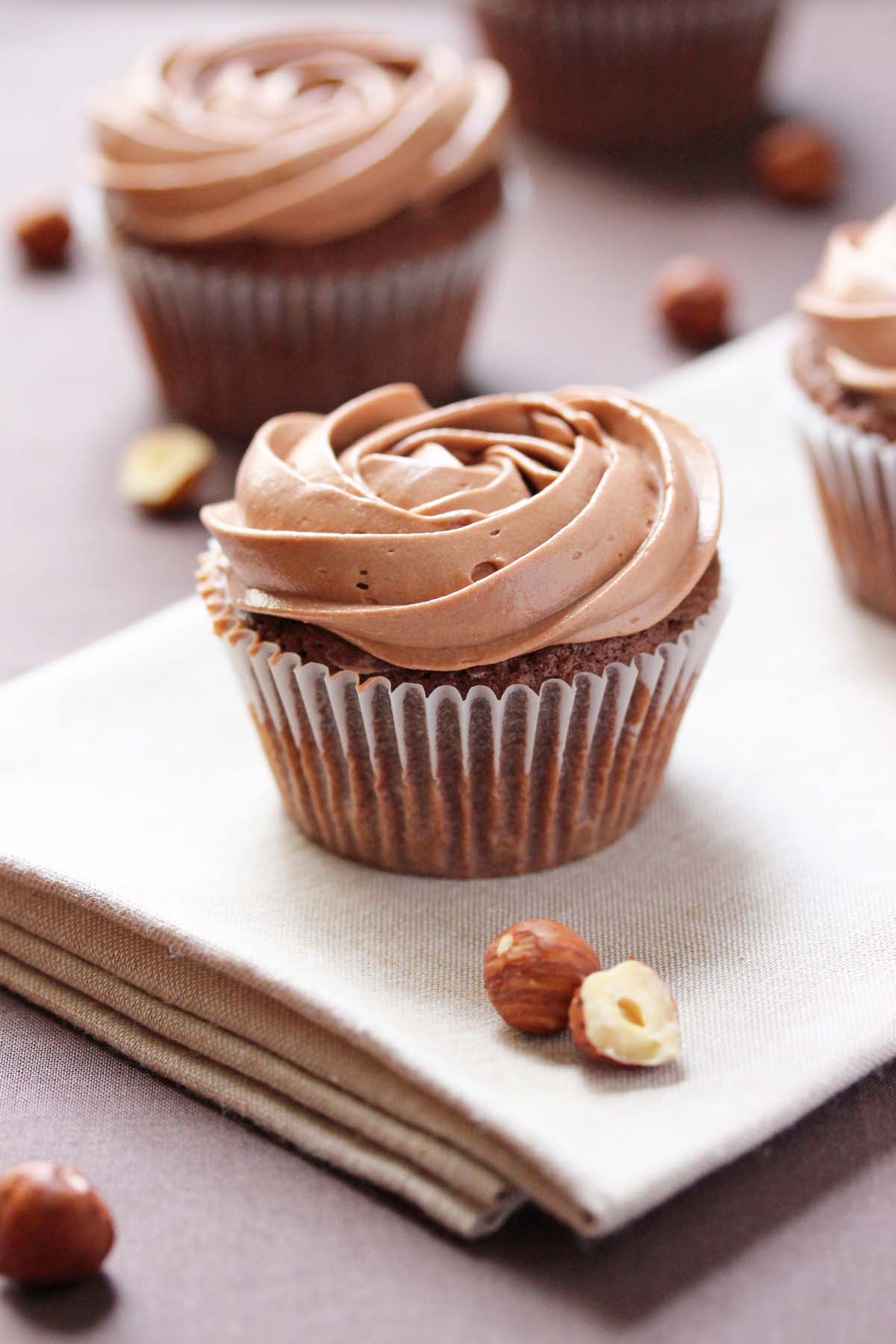 While out and about this weekend I noticed one shop was already starting to stock Halloween candy! I know, I was scared too, because even though fall is my most favorite season ever I am not quite ready to put away the sandals and summer clothes in exchange for gloves and scarves just yet. But enough about fall things for now, lets talk cupcakes!
As some of you may know, I recently made these Baked Nutella Doughnuts a few posts ago. If you haven't checked them out yet I suggest you give them a peek. Someone asked about those doughnuts being made into cupcakes… umm, talk about a brilliant idea. Ever since then I haven't been able to get the idea of a Nutella cupcake out of my head. So after a few adjustments I present you with these Nutella cupcakes.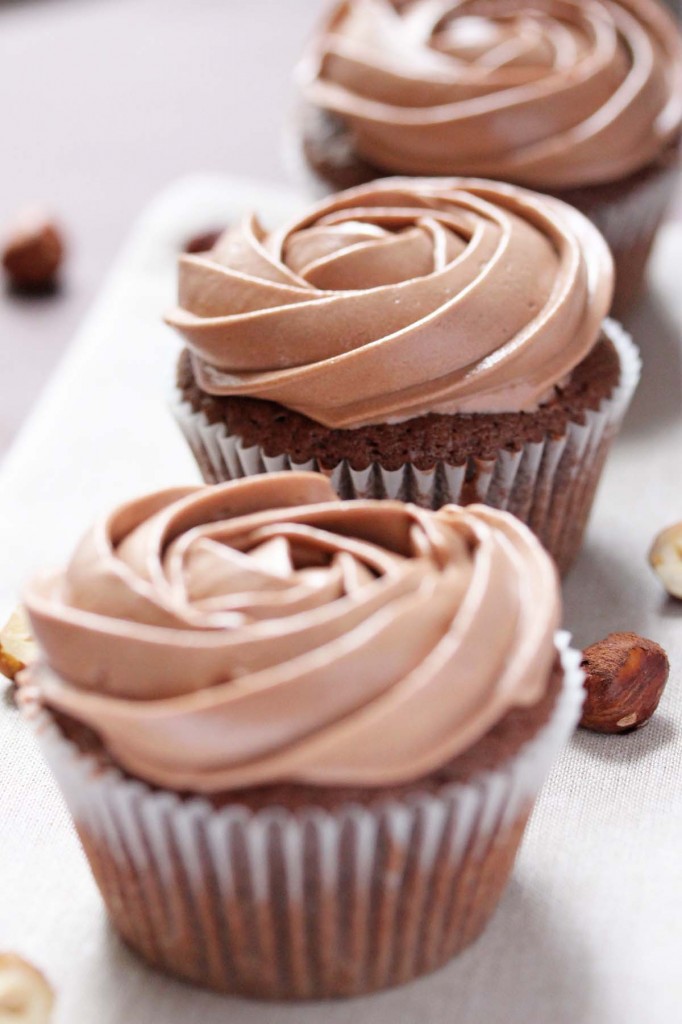 Tender chocolate cake with Nutella spread baked right in and topped in a smooth and creamy, you guessed it, Nutella frosting. For the perfect blend of chocolaty Nutella goodness in every bite.
Nutella Cupcakes
Source: Ashley Marie's Kitchen
Yield: 12 cupcakes
1 and 1/2 cups of all -purpose flour
1/4 cup of unsweetened cocoa powder ( I used dutch processed cocoa powder)
3/4 cup of granulated sugar
1 teaspoon of baking powder
1/4 teaspoon of salt
1 stick of unsalted butter, softened and cubed
1/2 cup of Nutella
1 large egg, room temperature
1 large egg white, room temperature
1/2 cup of whole milk
1 teaspoon of pure vanilla extract
Nutella Frosting
1 stick of unsalted butter, softened
2 cups of confectioners sugar
2/3 cup of Nutella
3-4 tablespoons of heavy cream
 Directions
Preheat the oven to 350 degrees and line a standard muffin tin with paper liners.
Over the bowl of the electric mixer sift together the flour, cocoa powder, granulated sugar, baking powder and salt. Using the paddle attachment mix the flour mixture on low speed until combined. Add the cubed butter and mix until coated in the flour mixture.
In a large bowl whisk together the Nutella, egg, egg white, vanilla and milk. In two equal parts add the Nutella mixture to the flour mixture and mix until just combined and smooth. Make sure not to over mix.
Divided the batter between the muffin cups. Make sure not to over fill. ( I used about 2 tablespoons of batter per cupcake). Bake rotating the pan halfway through for 17 -22 minutes and a toothpick inserted into the center comes out clean. Allow the cupcakes to cool completely.
While the cupcakes cool you can start on the frosting.
Nutella Frosting
In the bowl of the electric mixer fitted with the paddle attachment cream together the butter and Nutella until smooth and creamy. Add the confectioners sugar and mix until combined. Add the heavy cream and mix until smooth. Frost the cooled cupcakes and enjoy!