Salted Vanilla Bean Caramel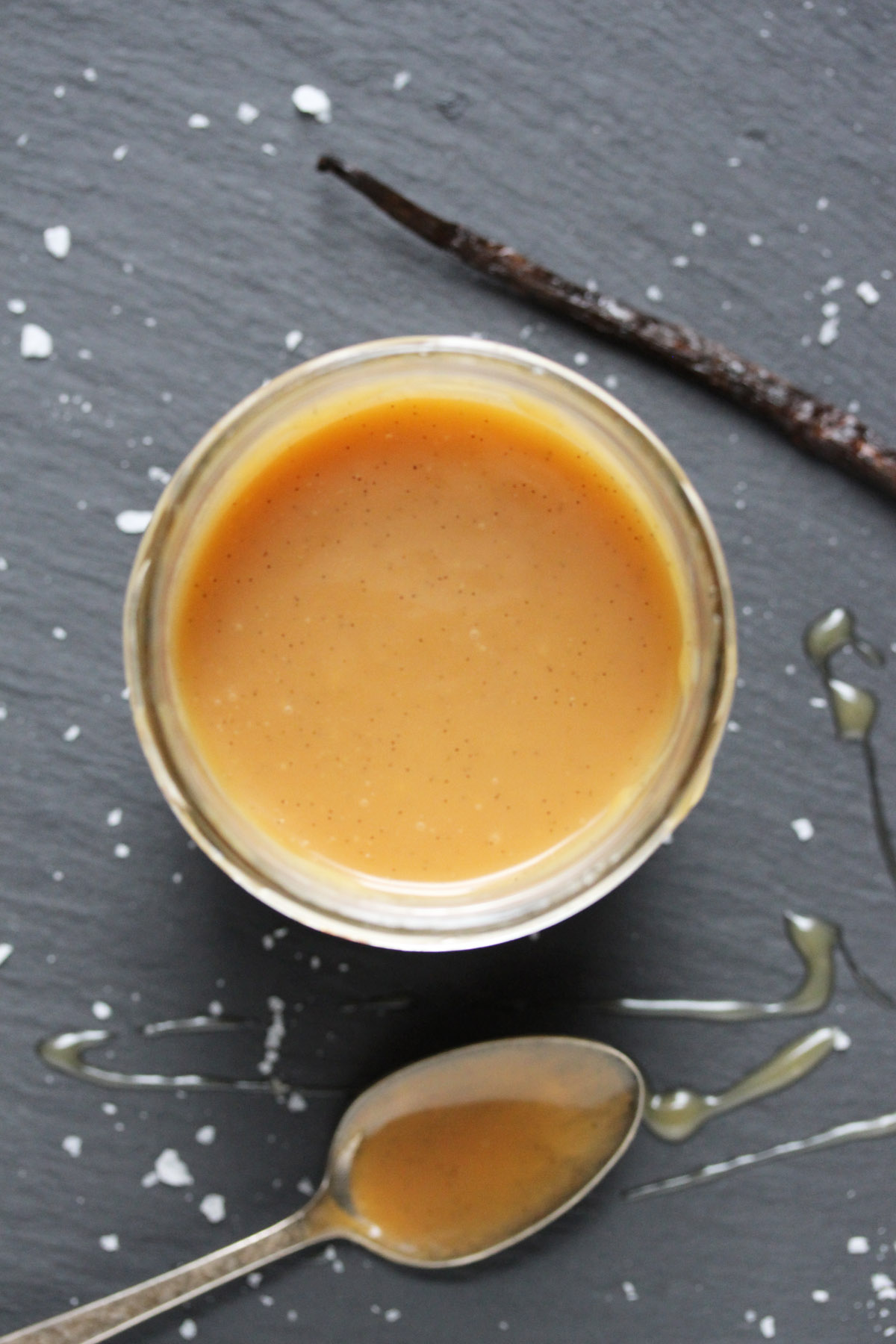 So, recently I was in need of some caramel sauce to douse spoon over my ice cream and since I have a weakness for caramel I prepared a batch of this salted caramel sauce with a vanilla bean twist. Salty, sweet, creamy caramel sauce with a lovely hint of vanilla. Just look at all those lovely vanilla bean specks.
Nothing quite *tops* that salty meets sweet combination quite like a good caramel sauce! This one makes the perfect addition to drinks, ice creams, brownies, and my next upcoming dessert…are you feeling the suspense yet?!?
If you are looking for more yummy caramel sauces check out this pumpkin caramel.
 Salted Vanilla Bean Caramel
Yield: 1 cup 
1 cup of granulated sugar
6 tablespoons of unsalted butter, at room temperature and cut into pieces
3/4 cup of heavy cream
1 large vanilla bean, seeds scraped
1/4 teaspoon of pure vanilla extract
1/4 teaspoon of sea salt
Directions
Heat the sugar in a large, 2-3 quart heavy bottom saucepan over medium- high heat stirring constantly with a wooden spoon. As the sugar mixture heats up it will begin to form clumps. Continue stirring until the mixture turns a golden amber color. Be careful not to burn.
Carefully add the butter stirring until the butter is melted. Use caution on this step as the mixture will foam up and splatter once the butter is added.
Remove the caramel from the heat. Slowly add the heavy cream, vanilla bean seeds, vanilla extract, and sea salt. Be careful as the mixture will splatter and foam up once the cream is added. Stir until combined and even in color.
Allow the caramel to cool. Store the cooled caramel in an air tight container in the refrigerator for up to 2 weeks.